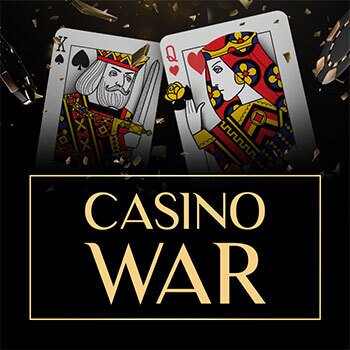 Casino War is one of the more unique table casino games out there, and if you can find it at your favorite real money casinos, it is worth playing. The game is a variation of the classic version but streamlined to make it more applicable in a casino setting.
The original is a fun family game to participate in with the kids, but Casino War is an entertaining adaptation for the adult player.
If you're looking for a pastime that is fun, easy to play and has a high RTP, then this game may be for you.
When a game has an RTP of 97% and more, then you're almost guaranteed to get some winnings.
This article will outline everything you need to know about Casino War and how you can get started. This is an easy one to pick up, but there is an ideal strategy that can help you maximize your RTP.
Best Casino War Gambling Sites
| RANK | REAL MONEY CASINO | BONUS | GAMES | GET STARTED |
| --- | --- | --- | --- | --- |
| 1 | Bovada Casino | BONUS 100% up to $3000 | GAMES 308 | Play Now |
| 2 | Las Atlantis Casino | BONUS 280% up to $14,000 | GAMES 261 | Play Now |
| 3 | BetUS | BONUS 150% up to $3,500 | GAMES 96 | Play Now |
| 4 | Slots.lv | BONUS 200% up to $5,000 | GAMES 312 | Play Now |
| 5 | Red Dog Casino | BONUS 225% up to $12,250 | GAMES 261 | Play Now |
What Is Casino War?
If you've played the classic version of this game, then Casino War will be very familiar to you.
There are a few differences between the two, and Casino War is much simpler than the regular card match. In the original version, you take over all of your opponent's cards through a series of battles.
In the Casino version, it is you versus the dealer with real money on the line. 
The aim of the contest is to have a higher card than the dealer.
The competition is straightforward until your card is the same as the dealers; Then both of you "go to war," and the dealer proceeds to draw two more cards, and you are required to double down your original wager.
If your card is higher, then you take the whole pot.
How To Play And Win Online Casino War?
Place a bet: Place a bet of a comfortable amount so that you can start playing
Receive your cards: Receive your cards and hope for an ace (that's the best card). Compare your cards to the dealer's, and if yours is higher, then you win!
If you have a tie, surrender or go to War: If you and the dealer have a tie, you have the option of either surrendering or going to War. Surrendering gives you back half of your bet, and a new round starts.
If declaring War, double your bet: To declare War, you're required to double down on your original wager.
If declaring War, receive two more cards: The dealer will proceed to show two more cards. If yours is higher, then you'll take down the whole pot and win big!
Everything About Casino War
Casino War House Edge
Every game is a contest of percentages and numbers. It's essential to understand how much of an advantage the house has depended on the situation. This can help you make the most optimal moves and bet appropriately.
| Decks | With Bonus | No Bonus | Surrender | Tie |
| --- | --- | --- | --- | --- |
| 1 | 2.06% | 2.42% | 2.94% | 35.29% |
| 2 | 2.24% | 2.70% | 3.40% | 25.24% |
| 3 | 2.29% | 2.79% | 3.55% | 21.94% |
| 4 | 2.31% | 2.84% | 3.62% | 20.29% |
| 5 | 2.32% | 2.86% | 3.67% | 19.31% |
| 6 | 2.33% | 2.88% | $3.70% | 18.65% |
Casino War Odds And Probabilities
| Result | Payout | Probability |
| --- | --- | --- |
| Win | 1 | 50.27% |
| Lose Ante Bet | (-1) | 46.30% |
| Lose After War | (-2) | 3.34% |
Payout
Casino War is one of the only online gambling games that statistically gives the player's edge over the house.
The probability table above shows you that players have a 50.27% chance to win money, and a win will provide you with your ante back.
If you bet $10, you'll get $20 back, including your original bet.
There are different variations of Casino War that have different payouts after a tie. Some variations payout x3 the ante if the player gets a tie after a tie.
Others pay less; however, all variations revolve around the "declaring war" aspect of the match.
The Pros And Cons Of Playing Casino War
Advantages
High RTP

Casino War has an very high RTP, giving players an excellent chance to profit when playing.

Players have the advantage

Casino War is uniquely one of the only table games that statistically gives players the edge over the house.
Disadvantages
Potentially habit forming

As is the case with all games, Casino War can be highly addictive and should be played in moderation.

Not common at most casinos

Casino War is quite rare to find in mainstream online gaming sites, so be sure to try it out at out recommended casinos and make sure to give Casino War a go!
Casino War Card Game Rules
There are three different Casino War variations that players can enjoy, and each has slightly different rules when it comes to declaring War.
Due to the rather two-dimensional nature of the contest, there can only be a variation on the special event. The section below will provide you with in-depth statistics on these variations.
General Rules
The game plays with six decks, and aces are ranked the highest, followed by face cards and so on.
After a wager is made, the player and dealer will receive a card each.
In the event of a tie, the player faces the choice to either surrender or declare War.
Upon declaring war, the player must double down his wager.
The dealer will burn three cards, deal a card, burn three cards again, and then deal the last card. If the player's card is higher than the dealer's, then the player will conquer.
If a side bet was placed and a tie comes out, the player receives a 10 to 1 payout.
Stingy Rules – Six Decks
Casino War with Stingy Rules still follows the six-deck format. This variation does not pay a bonus if the player receives a tie after a tie. The table below showcases the probability of each event happening.
| Event | Pays | Probability | Return |
| --- | --- | --- | --- |
| Win | 1 | 0.502735 | 0.502735 |
| Lose Original Bet | -1 | 0.463023 | -0.463023 |
| Lose After War | -2 | 0.034242 | -0.068484 |
Liberal Rules – Six Decks
Liberal rules Casino War does have a particular clause that pays out when a player receives a tie after a tie. The player will receive a bonus equal to the original ante upon receiving a tie after a tie. The table below showcases the probability of each event happening. 
| Event | Pays | Probability | Return |
| --- | --- | --- | --- |
| Win With Tie After Tie | 2 | 0.005471 | 0.010942 |
| Lose Original Bet | -1 | 0.463023 | -0.463023 |
| Lose After War | -2 | 0.034242 | -0.068484 |
Super Liberal Rules – Six Decks
When a match has Super Liberal rules, the player will receive x3 the ante when there is a tie after a tie. The table below shows the probability of each event happening.
| Event | Pays | Probability | Return |
| --- | --- | --- | --- |
| Win With Tie After Tie | 4 | 0.005471 | 0.021884 |
| All Other Wins | -1 | 0.497265 | 0.497265 |
| Lose The Original Bet | -1 | 0.463023 | -0.463023 |
| Lose After War | -2 | 0.034242 | 0.068484 |
Online Casino War Strategy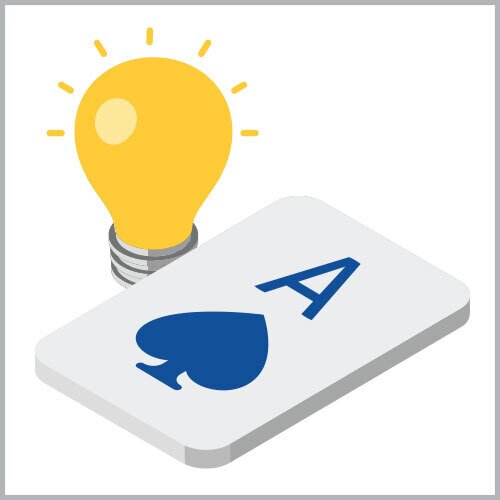 A strategy is essential, as understanding the probabilities and system behind a game can give you more of an advantage.
Casino War is one of the simplest matches available, so the strategic idea is to decrease the house edge as much as possible and increase yours. 
Never Surrender: When you get a tie, surrendering should never be an option. When you surrender, the house edge is 3.7%, but it goes down to about 2.8% when you declare War. So for the most optimal play, always declare War, even if there's a chance you may lose your whole bet.
Play with as few decks as possible: The more decks there are in-match, the more the house edge rises significantly. If the information is out there, find out which casino has the least amount of decks in their version of Casino War. That will give you a better chance at winning.
Casino War Tips
Progressively Overload Your Bets

Basic casino betting strategy says that players should gradually increase their bets upon a win and then reset to the original bet sizing on a loss.

Always Go To War

When presented with the opportunity to go to War – always take it. By going to War, you bring the house edge down from 3.70% to 2.88%.

Never Bet On The Side Bet

A tie doesn't come up often enough for placing side bets to be profitable, so it's generally a good idea to stay away from it.

Keep Count Of The Cards

Although it's impossible to know exactly what card will come up if many face cards or aces are dealt, there's a higher likelihood that a small card will show up soon.
Get Ready To Play Casino War Online
Casino War is a brilliant game to play when you want a fun and unique time. It has a high RTP percentage, and the odds are in the player's favor, so it's an exciting competition to play to get some winnings. If you get the chance to play Casino War, it's a laid back experience and a lot of fun.
Frequently Asked Questions About The Card Game Casino War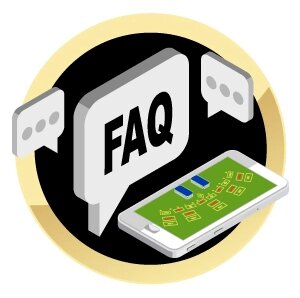 How does Online Casino War work? 
Online Casino War is simple to understand. Ultimately you want your card to be higher than the dealers. 
How to beat Casino War?
There is no clear cut way to beat any casino contest, including Casino War. There are general strategies such as progressive overloading your bets to maximize earnings and generally to stay away from side bets. Apart from that, your fate is at the hand of luck.
Which online casinos have casino war?
A lot of online casinos are starting to provide the game to players, such as 888 Casino, BetOnline, and many more!
Is Casino War a good game to play?
Casino War is fun to play if you're looking for something different than traditional casino table games. The RTP is also high, which means you're likely to earn money through this game.
Is Ace high or low in Casino War?
Ace is considered the highest card in Casino War.