Casino players that want to win and make a profit will need to understand one concept: house edge. The house edge is a percentage that reflects how much a game favors the online casino.
A game with a higher edge will pay out less than one with a lower one. Players should take the house edge into consideration when choosing an online casino game in order to have higher chances to win money.
Get our exclusive information of the top casino games that have the lowest house edge, so you can play for real money and win!
Which Casino Games Have The Lowest House Edge?
All online casino games come with their own house edge. Some have a better edge than others; meaning you have a better chance of making a profit by playing that particular game.
Check out the seven best online casino games with a low house edge. Get the details on each of these popular titles and how to get the upper hand against the casino!
---
Blackjack House Edge: 1.5%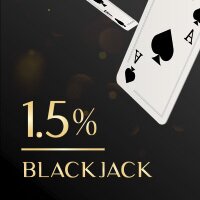 Players who enjoy the game of online blackjack will find it has a potential house edge of 1.5%. This is quite low compared to other games and provides you with a higher chance of winning the longer you play.
We say blackjack could have a house edge as low as 1.5% when the game has a set number of decks and favorable rules. Make sure to check the table rules before playing, as this could alter the edge against you.
How to Beat the Blackjack House Edge
There are a few ways you can beat the blackjack house edge: You can use a basic strategy cheat-sheet that gives you the breakdown of what you should do based on your hand and the dealer's hand. This will help you to know when to hit, stand, double down, and split.
Always split aces and eights as it increases your chances to win the hand. Never split 10's!
When it comes to selecting your blackjack game, look for an option that suits your bankroll. Choose games with lower limits so that you can play for longer using a solid strategy.
Counting cards is the surest way to win at blackjack, but this skill will do you no good when playing the online game. You can try your counting at the live dealer blackjack tables though.
---
Craps House Edge: 1.4%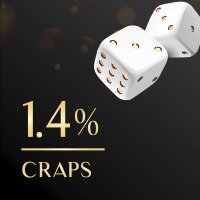 The game of online craps has a low house edge of 1.4% — which is tied to specific bets. This makes it a great game to play.
To take advantage of this low edge, you need to play the Come or Don't Pass Line bets. These two bets – among the many available – are optimal options, as they help you stay within the lower house edge when playing.
How to Beat the Craps House Edge
The best shot at beating the house when playing online craps is for you to place the Pass/Don't Pass or the Come/Don't Come bets. Any of these bets will reduce the house edge considerably.
Seasoned players may find these bets boring, so you can also wager on Place 6, Place 8, Field 2, or Field 12 that also have a good edge over the house; however not as good.
Avoid the Hard-Way 10 or Hard-Way 4 as these have a high house edge of 11% and pretty much guarantee that you won't win.
---
Baccarat House Edge: 1.06%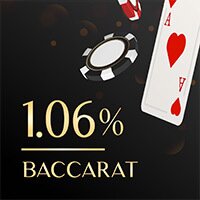 In online baccarat, you have three potential wagers you can place: the banker, the player, and the tie bet. To achieve the lower house edge of craps of 1.06%, you need to bet on the banker.
The house edge grows slightly to 1.24% when you wager on the player. Keep this in mind when comparing baccarat strategies as well as when simply playing the game.
How to Beat the Baccarat House Edge
It is a simple strategy: always bet on the banker hand. This has a lower house edge of 1.06% and can help you win more when playing. Playing the banker bet at all times sounds too easy, but it really is a simple strategy that works in your favor.
The tie bet may be appealing due to the higher payout amount, but it almost never wins and has a high edge of 14.36%. Avoid the tie bet any time you play baccarat.
You should also avoid side bets. These can be appealing as well but they also have a high house edge.
---
Three Card Poker House Edge: 1.5%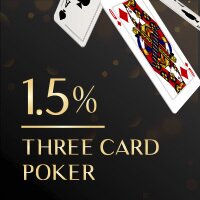 The lowest house edge you can find when playing three card poker is 1.5%. This can vary depending on where you play the game, as well as the dealer's hand.
In some instances, the house edge can increase to 3%. You can look at the casino game details to provide you with the house edge. This will help you to choose a three-card poker variant with the lowest house edge.
How to Beat the Three Card Poker House Edge
One of the best ways to beat the house edge in three card poker is to play the Pair Plus and Ante Play bet on the same hand. This strategy basically puts you in a win-win or a win-lose situation.
Either way, you are not going to see a huge loss like you would if you chose to bet one or the other.
---
Roulette House Edge: 2.5%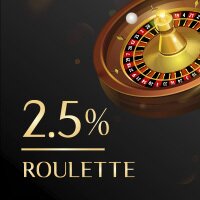 When playing roulette online, the house edge can vary based on the type of roulette table you play.
Choose the game with a single zero (European Roulette), as this helps you to play at the lowest possible house edge. Strategic players choose to play European over American roulette, as it has only one zero compared to the zero and double zero of American.
How to Beat the Roulette House Edge
There is no real strategy to winning at roulette, as it is 100% luck. Play this game knowing that you may not always win, but it is a lot of fun to play!
The roulette variation that has the lowest house edge is the French variant. The house edge is around 1.35%, so you stand a better chance of winning. With French Roulette, you play on a European wheel. It has a la partage rule which pays half back on losing even-money bets that land on 0.
You can also apply a betting strategy called the Martingale System. With this system, you double your bet every time you lose. In theory, this helps you recover the money you lost. However, this strategy can get expensive if you don't budget and know when to walk away.
---
Video Poker House Edge: 0.5%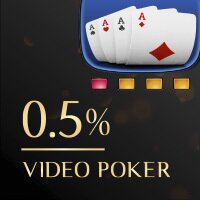 If you are looking for the lowest possible house edge within our entire games list, then look no further than online video poker. The house edge can go as low as 0.5%.
The house edge for video poker can range between 0.5% and 5% — and depending on the game you play, it could even come with a POSITIVE return-to-player percent.
How to Beat the Video Poker House Edge
With video poker, you can beat the house edge by playing a game that works in your favor. Video poker is much like slot games, as it has a return to player percentage. Find a game that has a high RTP and you are more likely to beat the house more often than not.
A game like Jacks or Better can have an RTP 95% or higher. This allows you to earn $95 or more for every $100 you wager.
The full pay Deuces Wild has an RTP of 100.76%, which comes with a house edge of -0.76%.
---
Slots House Edge: 2.0%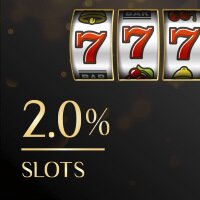 Another option for great entertainment when it comes to casino games are online slots. Developers often create slot games with a Return To Play (RTP) of 96-98%. The RTP percentage is the return you will see based on gameplay. This creates a house edge of as little as 2%, which means more prize money for you!
How to Beat the Slots House Edge
To gain the best edge over the house with slot games, you need to consider several factors.
RTP. Just as mentioned in video poker, look for games with a high RTP of 96-98%.
Look at the game's features. If you can earn free spins or bonus rounds, then you have a better shot of earning a win while you play.
Extra features easily put you at an advantage as you can earn free spins that cost you nothing but can potentially hit a jackpot prize.
---
Are There Any Casino Games Without A House Edge?
We know that casino games like blackjack, roulette, and craps have a house edge. Are there any casino games without a house edge? Unfortunately, there are no casino games that don't have an edge.
The way an online casino makes money is with the house edge. They will never offer games with a zero-edge as they would not make a profit.
There are games that come with a POSITIVE house edge, meaning players actually have a chance to profit easily. These are the hidden gems in the online casino world.
What Casino Games Have The Highest House Edge?
There are casino games that have a horrible house edge. More specifically, there are bets in games that are horrible to place due to the house edge they create. It is important to learn more about such casino bets so you can avoid them.
Here is a list of casino games with the highest house edge so you can learn more about what to avoid: 
Worst House Edge Games And Bets
Craps (3, 11 and all easy hops; hard 4, 10; any craps) — House edge of 11.11%
Craps (2, 12 and all hard hops) — House edge of 13.89%
Baccarat (Tie Bet) — House edge of 14.36%
Big Six — House edge between 16%-24%
Craps (Any Seven) — House edge between 16.67%
Casino War (Tie Bet) — House edge of 18.651%
Keno — House edge of between 25% to 29%
Sic Bo — House edge of 33.3%
Why Would You Play These High House Edge Games & Bets?
You may be wondering why people would play a game with a high house edge or place a bet that favors the house. Well, usually the higher risk of loss comes with a bigger payout.
If you are willing to take the risk, these are the bets you want. Casinos add higher payouts to the games and bets that have a higher house edge because players are willing to place the wager in hopes of hitting the large payout.
Consider the game of keno. It has a house edge of 25 to 29%. This game is like playing instant lottery and can provide high payouts if you win. Players test their luck with keno even though the house edge is high because there is potential to win a large jackpot prize.
We still advise you to avoid the games and bets with a high house edge and focus more on strategy and lower edge games.
Start Playing And Beating The Best House Edge Casino Games
If you enjoy playing casino games and are looking to make a profit, the house edge must be taken into account before you play for real money. Use the house edge knowledge to your advantage, along with strategies to beat the edge and build a solid bankroll. 
There is still a risk when you play any casino game and the only true way to win money is to walk away while you are up. However, learning more about the house edge and how it applies to the game you are playing as well as specific bets and strategies, you can increase you chances of earning a big win!