Sic Bo is an ancient table game played with three dice.
Originating from China, the game is often referred to as Hi-Lo, Tai Sai and Dai Siu; however, its more literal meaning is "dice pair." 
Online Sic Bo is also one of two classic casino games involving play with dice, the other one is online craps.
Since wagering options are based on the roll of dice, it is mainly a game of chance. So, you don't need to master a complex strategy to win real money easily on online Sic Bo.
If you want to know more about it, you are in the right place.
In this guide, you will learn how to win at Sic Bo, plus some tips and tricks to play like a pro.
Additionally, we share with you the best and safest online casinos where you can have the ultimate experience playing real money Sic Bo.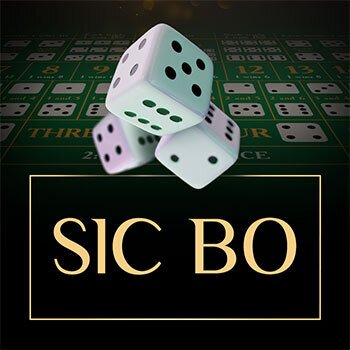 Where To Play Sic Bo Online For Real Money
You will find real money Sic Bo at several casinos online. However, some of them are just a waste of time and money.
If you want the best experience playing online Sic Bo, then it is important to choose a safe and legitimate casino.
Here is a list of the best online casino sites to play Sic Bo for real money.
Play Online Sic Bo At These Top USA Casinos
| RANK | CASINO | BONUS | PLAY NOW |
| --- | --- | --- | --- |
| 1 | Las Atlantis Casino | BONUS 280% up to $14,000 | Play Now |
| 2 | Red Dog Casino | BONUS 225% up to $12,250 | Play Now |
| 3 | El Royale Casino | BONUS 250% up to $12,500 | Play Now |
| 4 | Slots Empire | BONUS 220% up to $12,000 | Play Now |
Real Money Sic Bo Winning Strategy
Online Sic Bo is a game of chance and you don't really need any specific Sic Bo betting strategy to win.
However, it is true that there are some tips and tricks that you can adopt to increase your chances of winning while playing the game for real money. 
Avoid Triple Bet Types:

Triple Bets are a long shot, and it is not advisable if you want to manage your bankroll

Focus More On Small Or Big Bets:

The big and small bets have the smallest house edge and the highest chances of winning.

Although the payout is small, it is still the best Sic Bo strategy to win.

Avoid Placing Many Multiple Bets:

You can get to place up to 16 bets per roll on Sic Bo online, but you shouldn't.

Betting on several areas and losing them can eat fast into your bankroll.

Don't Follow Rolling Patterns Blindly:

it is purely a game of chance. RNGs carry out the dice rolls, and there is no set pattern.

The outcomes of the dice are randomized and are not determined by previous rolls.
There is simply no pattern or "number counting" to win, but hopefully these tips will put you in the right direction.
Sic Bo Odds, Table Layout And Betting Options
Before playing, you need to understand the table layout. The online Sic Bo version it's similar to the one you will find at brick and mortar casinos. 
The board features a large grid lined out on the felt with various squares showing numbers, words, and dice pictures in the grid.  
All the information you need is on the table; it is divided into three sectors, each containing different wagering options and odds. 
Single Number Bets
At the bottom of the Sic Bo board, there are number bets from one to six. To wager, place a bet on a specific number (1-6) to get rolled on one, two, or all three dice.
The payout is 1:1 if one dice has your selected number, 2:1 if your number hit on two dice, and 3:1 if all dice match your number.
Although the payout for single number bets is relatively low, they feature great odds.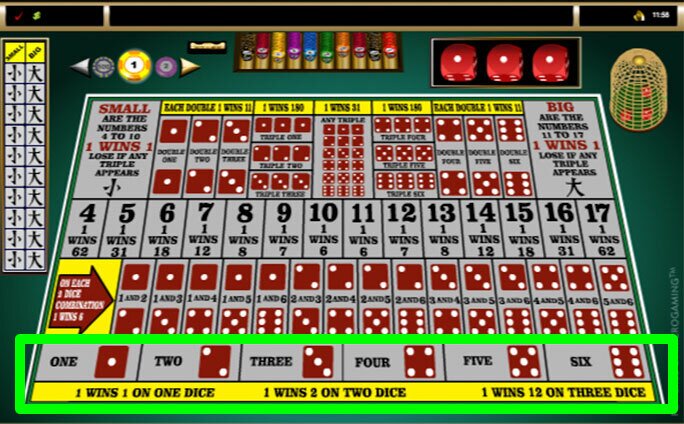 Two Dice  Combinations 
At the middle sector of the table layout, you can place the Pair bets.
The two dice combination bet or Domino bet is placed on the outcome being the next roll containing two specific dice, like 1 and 2, 3 and 6, and so on. It pays 5:1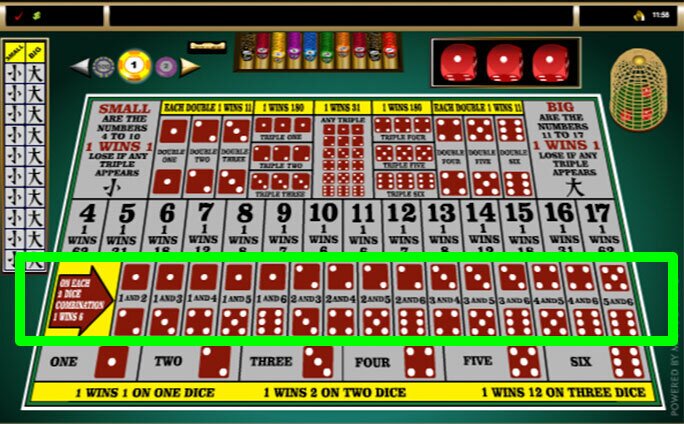 Double Bet
This bet wins if two of the three dice have the same value or correct double selected by the player (e.g., two 3's).
You can place six possible bets in this category, and the payout is 8:1.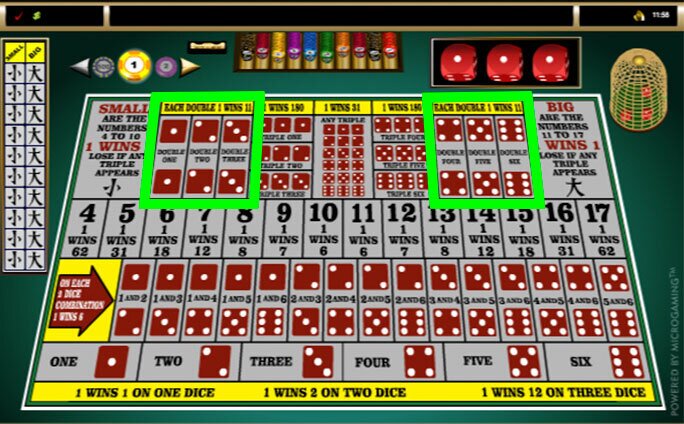 Any Triple
You can wager on any six specific sets of triples you expect the dice to roll. The bet pays 30:1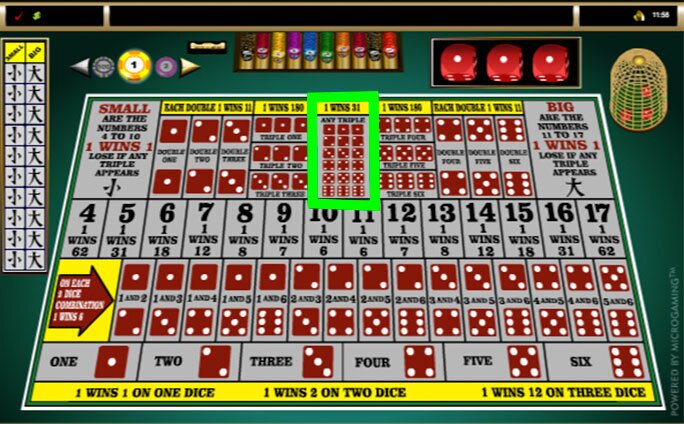 Specific Triple Bet
You can also place a bet that all three dice will have the same number.
You have six possible bets (111, 222, 333, 444, 555 and 666). It pays 180:1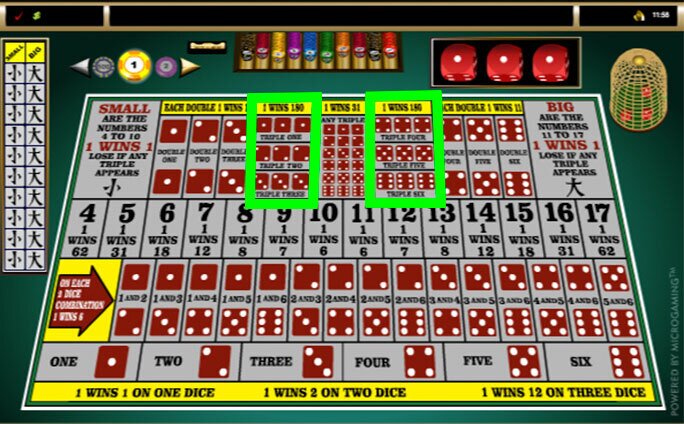 Small / Big
At the top of the table, you will find the Small and the Big bets. You place a small bet when you bet on the total of the three dice being Small (from 4 -10).
The Big bet is when the sum of the three dice is from 11 to 17. They pay 1:1 and also feature the smallest Sic Bo house edge.
However, you lose your bet if the outcome of the roll is a  triple (1-1-1, 6-6-6)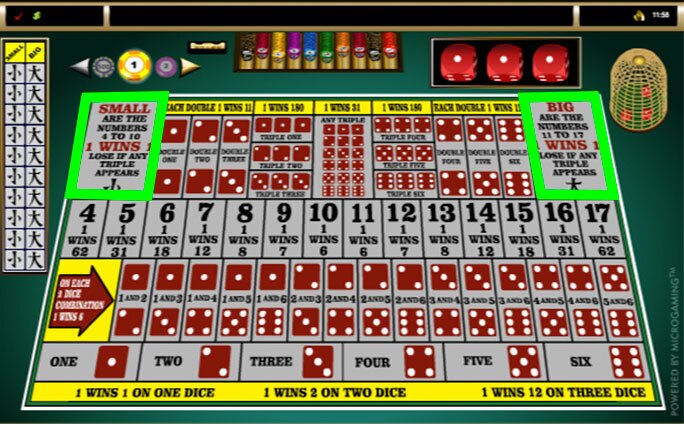 Odd/Even
You can bet on the sum of the three dice being odd or even. Like the Small/Big odds, it pays 1:1. If a triple is rolled, you also lose your bet. 
Totals 
The outcome of the three dice can give 14 different bet totals that players can also bet on.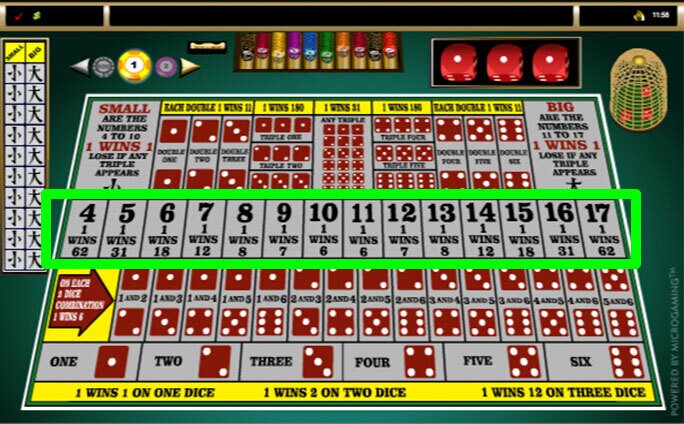 The sum ranges from 4 to 17, with the Sic Bo payout starting from 60:1 to 6:1. You can decide to choose one of these totals and bet on it. 
| Bet | Payout | Bet | Payout |
| --- | --- | --- | --- |
| 4 | 60 to 1 | 11 | 6 to 1 |
| 5 | 30 to 1 | 12 | 6 to 1 |
| 6 | 17 to 1 | 13 | 8 to 1 |
| 7 | 12 to 1 | 14 | 12 to 1 |
| 8 | 8 to 1 | 15 | 17 to 1 |
| 9 | 6 to 1 | 16 | 30 to 1 |
| 10 | 6 to 1 | 17 | 60 to 1 |
If you are still a little bit confused about placing bets on Sic Bo online, then the table below will help you out.
The table contains the bets, payouts, winning combinations and their respective house edges.
It will help you decide which bet is best for increasing your bankroll and better understand the Sic Bo probability.
| Bet | Payout | Winning Combinations | House Edge |
| --- | --- | --- | --- |
| Single Number Bet | 1 to 1, 2 to 1, 3 to 1 | 75, 15, 1 | 7.87% |
| Two Dice Combinations | 5 to 1 | 30 | 16.67% |
| Double Bet | 10 to 1 | 6 | 18 25% |
| Any Triple | 30 to 1 | 6 | 13.89% |
| Specific Triple Bet | 180 to 1 | 1 | 16.20% |
| Small/Big Bet | 1 to 1 | 105 | 2.78% |
| Odd/Even Bet | 1 to 1 | 105 | 2.78% |
| Sum of 4 or 17 | 60 to 1 | 3 | 15.28% |
| Sum of 5 or 16 | 30 to 1 | 6 | 13.89% |
| Sum of 6 or 15 | 17 to 1 | 10 | 16.67% |
| Sum of 7 or 14 | 12 to 1 | 5 | 9.72% |
| Sum of 8 or 13 | 8 to 1 | 21 | 12.50% |
| Sum of 9 or 12 | 6 to 1 | 25 | 18.99% |
| Sum of 10 or 11 | 6 to 1 | 27 | 12.50% |
How To Play Sic Bo Online
Playing online Sic Bo is easy and straightforward, follow the steps below to start playing: 
Choose The Coin Value

The first step is to select your chip denomination, using the coin value.

Place Your Bet

Proceed to place your bets on the area of the table of your choice.

The stakes and payouts in each sector have been explained above. You can also place multiple bets at once.

Click The Roll Button

Pressing the roll button on the screen will automatically roll the three dice on the table.

The outcome would determine whether you get paid or lose your bet. Clicking the rebet button will start a new game, but with your last bet amount.
Is There Live Dealer Sic Bo?
Yes, Live dealer Sic Bo is available at online casinos. You will be able to play for real money against real dealers in live-time streaming.
It also features an audio/video live chat function that enables you to interact with your dealer in a realistic casino setting.
Sic Bo Variations 
Sic Bo online has several variations which include Birdcage, Chuck-a-Luck, Dai Siu, Grand Hazard, Hi-Lo, Lucky Dice, Mini Dice, Tai Sai, and Yee Hah Hi.
While some variations are available at land-based casinos only, you will find some being offered at online casinos.
Unlike Sic Bo, some of these variations are only played at their origin countries. For instance, Hi-Lo is predominantly available at Macau casinos while Chuck-a-Luck at US casinos.
They share several specific differences with standard online Sic Bo games ranging from payouts and symbols to dice numbers.
Closing Thoughts On Sic Bo Online
Although real money Sic Bo isn't very popular at online casinos, it is an excellent alternative table game to play for real money.
The fact that you don't need to understand any strategy before you can play it effectively and win real money makes it more appealing.
To have an overall enjoyable and secure gambling experience, it is paramount that you play only at safe and legitimate casinos.
We have done the hard work for you; just make your choice from our recommended casinos and start playing real money Sic Bo online today!