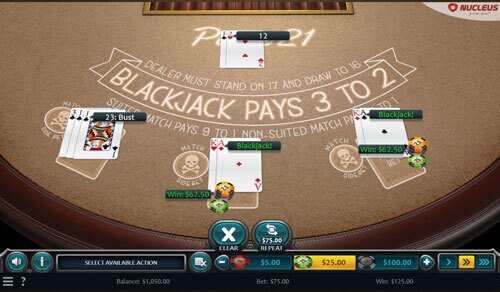 Before the days of internet casinos, blackjack came in just a few basic forms. The rules differed a bit from table to table. Single- and double-deck games were common. Side bets were a rare find.
With the emergence of online gambling came the introduction of myriad rule sets and a plethora of side bets, including one unique blackjack game known as Pirate 21.
This blackjack variant isn't exactly new, but it's not exactly common either. According to my research, it first appeared over a decade ago when a now-extinct software company by the name of Diamond Games introduced it in 2004.
More recently, it was re-introduced as an online blackjack game by leading games developer Betsoft and Nucleus Gaming.
Difference In Rules and House Edge
I can't say whether the rules of Pirate 21 blackjack are identical between the two brands, since I never played the original. It is remarkably similar to a more common variation known as Spanish 21.
Especially when comparing the multifarious ways to win a hand, and that's before the optional side bet even comes into play.
Don't get me wrong – Pirate 21 isn't going to give you a distinct advantage over the house. It is a casino game after all. Every casino game comes with a house edge, but if you're looking for something a bit different, Pirate 21 is definitely up your alley.
In this case, with a premium strategy, the house edge is approximately 0.76%.
Where Can You Play Pirate 21 Blackjack?
Check out and start playing at any of these top casino sites that offer Pirate 21 blackjack:
| RANK | CASINO | BLACKJACK GAMES | BONUS | PLAY PIRATE 21 |
| --- | --- | --- | --- | --- |
| 1 | Wild Casino | BLACKJACK GAMES 11 | BONUS 100% up to $5,000 | Play Now |
| 2 | BetOnline Casino | BLACKJACK GAMES 22 | BONUS 100% up to $3,000 | Play Now |
| 3 | Super Slots Casino | BLACKJACK GAMES 12 | BONUS 250% up to $6,000 | Play Now |
| 4 | MyBookie Casino | BLACKJACK GAMES 19 | BONUS 150% up to $750 | Play Now |
How To Play Pirate 21 Blackjack
The object of the game is no different than your standard variety of blackjack. The goal for every player is to achieve a hand total of 21, or as close to it as possible without busting. If the player's hand is higher than the dealer's, without exceeding 21, the player wins. However, achieving any hand total of 21 automatically wins.
Pirate 21 is a multi-hand blackjack game, meaning a player can participate in up to 3 hands per game. You can find sites with a minimum and maximum table limits set at $1 to $1000 per hand.
Unlike the traditional game, Pirate 21 blackjack uses something called a 'Pirate' deck, or what's more commonly referred to as a 'Spanish' deck.
This means there are no 10's in the shoe.
Generally, that's bad for players, meaning less natural blackjacks will be dealt, but in this blackjack game, any total of 21 automatically wins, whether it consists of 2 cards or more.
Pirate 21 Blackjack Game Rules
The following rules apply:
Player 21 always wins
Player blackjack beats dealer blackjack
Player may Double on any number of cards
Double after split
Re-split Aces
Double after splitting Aces
Late surrender
Double down rescue (surrender after double)
Dealer hits Soft 17
Pirate 21 Blackjack – Base Game Pay Table
HAND
PAYOUT
Winning Hand
1:1
3-4 Card 21
1:1
Blackjack (2 Card 21)
3:2
5 Card 21
3:2
6 Card 21
2:1
7+ Card 21
3:1
6-7-8 Mixed Suits*
3:2
7-7-7 Mixed Suit*
3:2
6-7-8 Same Suit*
2:1
7-7-7 Same Suit*
2:1
6-7-8 all Spades*
3:1
7-7-7 all Spades*
3:1
7-7-7 Suited with Dealer
showing 7 on Bet of $5-$24**
$1,000
7-7-7 Suited with Dealer
showing 7 on Bet of $25+**
$5,000
* Does not apply if result of Double
** Does not apply if result of Split
Pirate 21 'Match the Dealer' Side Bet
This optional side bet pays if either of the player's first two cards match the up-card of the dealer. If the matching card is of a different suit, the side bet pays 4:1; if suited, 9:1.
Note that if both cards match the dealer's up-card, only the highest paying match will be paid.