One of the popular online casino content developers, Relax Gaming, recently released a brand-new title called Snake Arena.
The game revolves around a group of knights and snakes in a battlefield of a sort, confronting each other in an epic battle where the one who can benefit the most is the player.
Different Experience With Snake Arena
This interesting game is not an ordinary online slot. The first thing you can see when you start it is that there's a short cinematic intro depicting how the initial conflict between the knights and the snakes started.
The somewhat cartoonish and child-like animation immediately suggests that the game is not made to be a serious epic fantasy title. 
In fact, there's a bit of comedy to it all, making Snake Arena a relaxing game.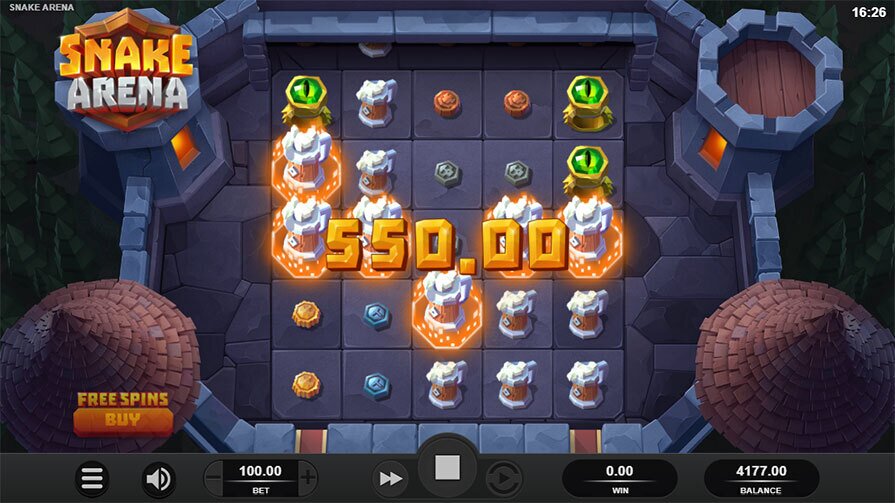 Snake Arena Slot Game Features
Let's take a look at some of the features of Snake Arena slot.
First of all, the number of reels is five, but what makes this title different is that there are five rows as well. Therefore, the grid structure of Snake Arena is 5×5, making players feel like they are actually playing some sort of chess game.
Moreover, the game comes with a total of 30 paylines, and the recorded RTP of 96.25 percent, which is quite great.
Just like the majority of online slots, this one also has a couple of special features that you should check out. Let's see what they are.
Special Features of Snake Arena
One of the most interesting features in this game is the Free Spins feature. Although there are many such features in online slots, this one is rather unique and is inspired by the legendary snake games from Nokia phones.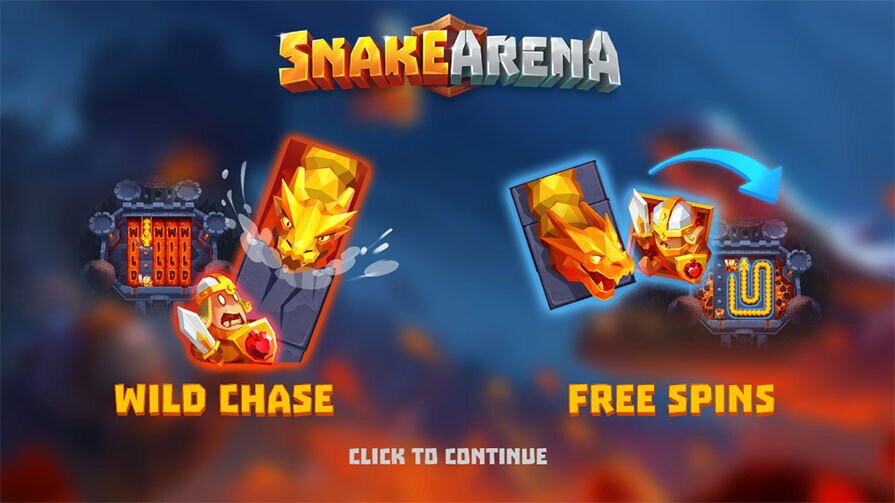 Start Free Spins Round
To start the free spins round, you need to land one snake symbol and one knight symbol. The free spins round will start, and the snake will start moving through reels to reach the knight. 
As long as it eats knights, your free spins game will not stop. As soon as the snake hits itself, free spins will end.
However, if you're lucky enough to fill two to five reels with the snake, you will be rewarded with an additional prize of 1000x the stake.
Wild Chase Bonus
The second important bonus is called the Wild Chase. There's nothing you need to do to trigger it — it triggers automatically, meaning it can come at any time.
The Wild Chase feature is pretty simple, as reels 1-5 will randomly become entirely wild, paving the way for more combinations on the reels, which means more prizes for players.
Special Symbols: Snake & Knight
Finally, you should take into account that there are two special symbols, and we already mentioned them. They are the knight and the snake. 
Both of these symbols are actually wilds and can substitute any other symbol on the reels to help players create a combo and win big prizes.
Relax Gaming once again made a great online video slot with impressive gameplay and great animations.