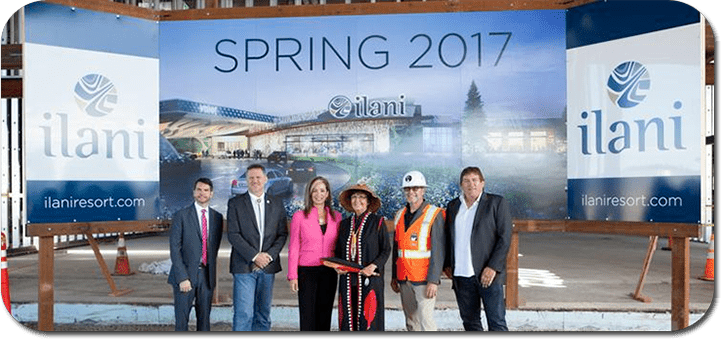 The current casino in development by the Cowlitz Indian Tribe in Washington State has been branded as the Ilani Casino Resort. This may not seem like news, but a development without a proper name does not seem to attract as many players. Considering that the project began construction on the gaming venue in September 2015, and was previously known as the Cowlitz Casino Project; not a very meaningful name.
Giving the Casino a Meaningful Name
For Native Americans and their tribes, a name was always meant to reflect the person's personality and strength, and the same would go for anything else they build; in this case, their casino. Keeping the $500 million project without a proper name for almost a year into development, it was time to finally brand themselves. They came up with "Ilani" as the new name for their casino, which has great meaning to the tribe.
Cowlitz spiritual leader, Tanna Engdahl mentioned why they chose that name,
"There is a history and a journey that is represented in this one word, ilani. It is a memory of the songs we sang throughout the centuries in the long journey to this time. We do not have a song for defeat, so we never learned how to give up."
It seems that this project carries great responsibility for the tribe, as well as their collaborators, the Mohegan Tribal Gaming Authority.
Project Details and Future
The entire project is costing the tribe $510 million, where they will get an amazing casino and resort. It will contain:
368,000 square feet total, with the casino level going to take up to 275,000 square feet and will feature all kinds of casino games.
15 different bars, restaurants, retail, and entertainment establishments.
Event center with a capacity for 2,500 people.
They speculate that they will need 1,000 full-time workers to fill all positions within the casino and will be hosting job fairs during the summers leading up to their opening in spring 2017. They are aiming to be more than just a casino where gamblers can play, as project manager Kara Fox-LaRose explained,
"We're not targeting just gamers with this facility. We really will be unique within the gaming market in Washington."
It will be good to see this project and the new Ilani Casino Resort have a spectacular opening in a year. For those that want to follow them, closer can visit their website.