Video poker is a popular type of casino game for those who enjoy fast-paced action. The main attraction of video poker is that every single variant has a high RTP, allowing players to use their bankroll to its maximum potential and win big payouts.
Get the video poker games with the highest RTPs – so that you can have fun AND make money! We will also give you a few tips to increase your winnings the next time you play video poker online.
Video Poker Games With Sky-High RTPs (And Full Payouts!)
1) Jacks or Better – RTP: 99.54%
Jacks or Better is considered the original video poker game and is perhaps the purest form of the game out there.
Every other variant stems from Jacks or Better, but nothing can beat the founder.
With an RTP of 99.54% and a simple playstyle, players flock to play this game, and it's a staple in many gamblers' favorites. 
Get the full payout table when you play Jacks or Better at our recommended casino!
Jacks Or Better Pay Table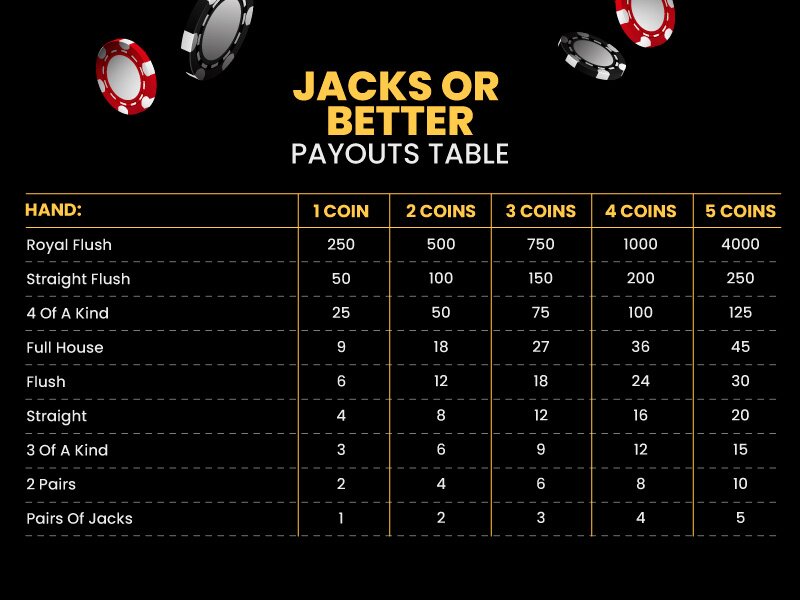 ---
2) Bonus Poker – RTP: 99.17%
If Jacks or Better is the founding father of video poker, then Bonus Poker is the eldest son.

The only main difference between the two games is the graphics and the fact that Bonus Poker boosts the payout for getting a Four of a Kind.
Apart from that, the gameplay is largely the same as Jacks or Better.
Top-rated casinos offer players the full Bonus Poker pay table.
Bonus Poker Pay Table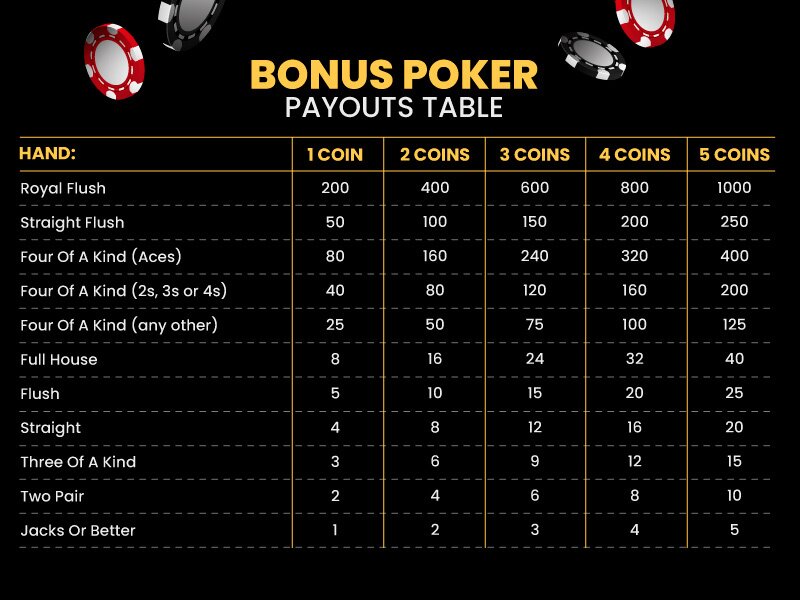 ---
3) Sevens Wild – RTP: 99.10%
Sevens Wild is the sister game of Deuces Wild, where the sevens are considered "wild". A wild card can replace any other to form a hand.
If you have K Q 10 7 7, then the two sevens can be turned into a J and A to make a wild royal flush, and you'd be in store for a big payday!
This added element to the game is enticing for many players as there is more opportunity to win. Having an RTP of 99.10% helps.
Sevens Wild Pay Table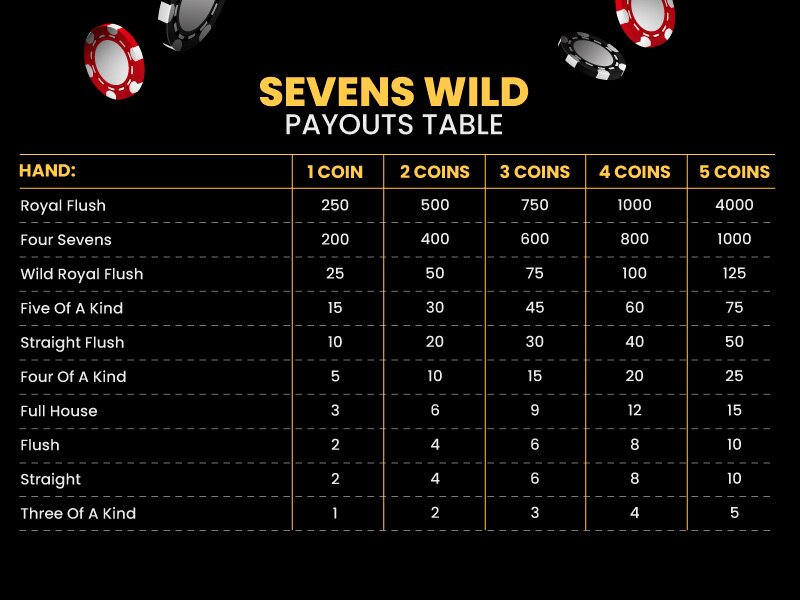 ---
4) Loose Deuces – RTP: 99.07%
Loose Deuces is not so different from other variants of video poker that include wild cards.
Loose Deuces is more popular than Deuces Wild because the payouts are boosted on particular hands.
Video poker games with wild cards will always be popular, so give this one a go if you enjoy exciting gameplay!
Loose Deuces Pay Table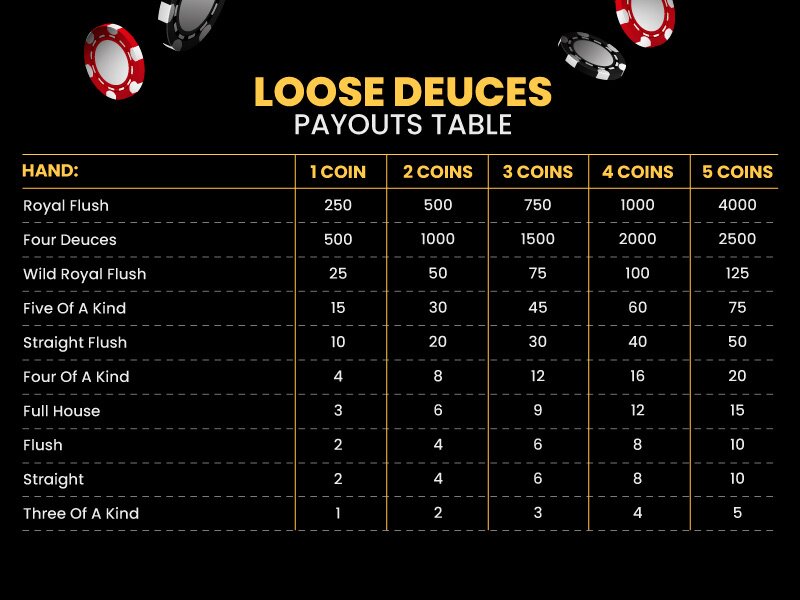 ---
5) Joker Poker – RTP: 98.70%
Joker Poker is perhaps the most unique video poker game on this list because it includes the joker card.
The game is played with a 53-card deck instead of the standard 52-deck and only includes one joker.
Unlike other wild video poker games like Loose Deuces, having one wild card brings the RTP down quite a bit.
That doesn't mean the game doesn't pay well—it's just that most other video poker games pay so well!
Joker Poker Pay Table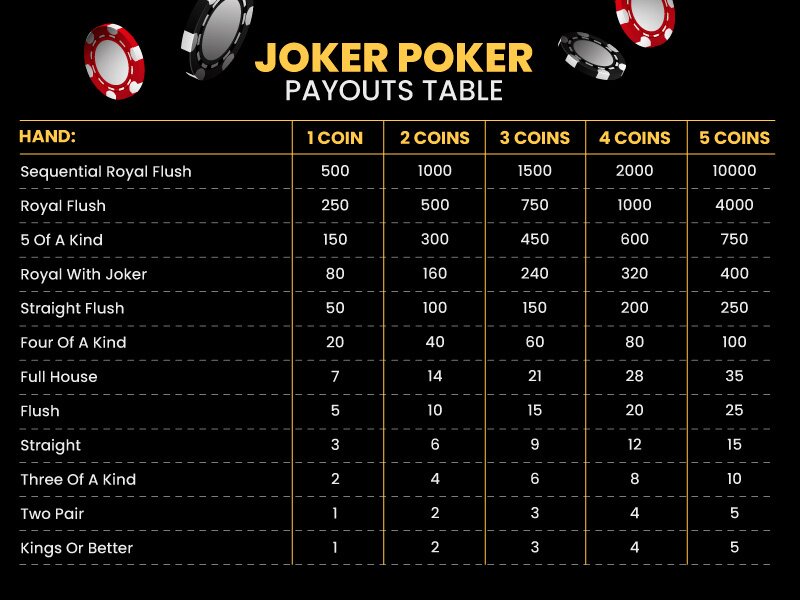 ---
6) Aces & Eights – RTP: 98.65%
If you've ever heard the term "Dead Man's Hand", it stems from Aces & Eights. According to lore, professional gambler Bill Hickok had the "A A 8 8 x" hand when he was murdered.
In this video poker variant, having a four of a kind of Aces or 8s is considered the third highest paying hand – after the Royal Flush and the Straight Flush.
The added history of this game, along with the plentiful opportunities to win big, make it so popular.
Aces & Eights Pay Table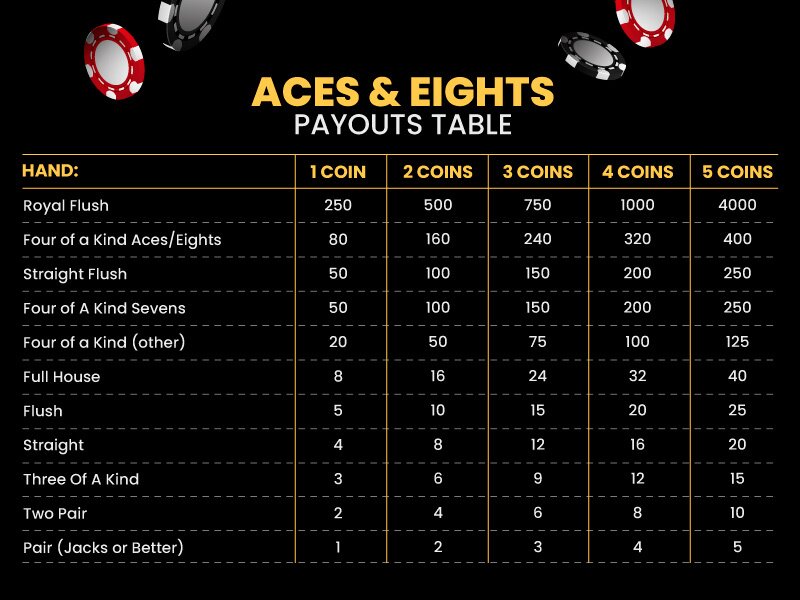 ---
7) Deuces Wild – RTP: 96.77%
Deuces Wild is the game that spawned variations such as Loose Deuces, Sevens Wild, etc., so the paytable is not as modern as the latter.
For those who enjoy a more traditional gambling experience, Deuces Wild is an excellent game to play.
An RTP of 96.77% isn't the best you can get, but you can still win big!
Deuces Wild Pay Table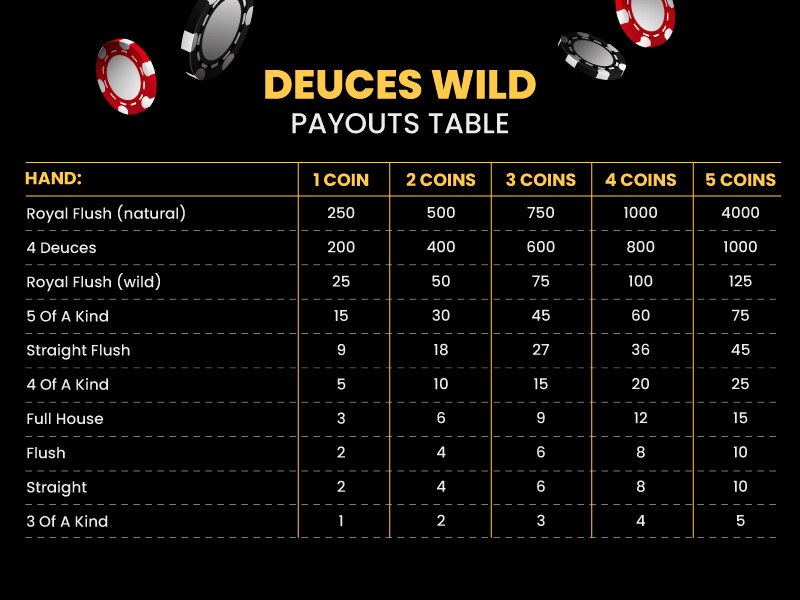 ---
Pro Tips To Win Big Payouts When Playing Video Poker
Look For The "Full" Pay Table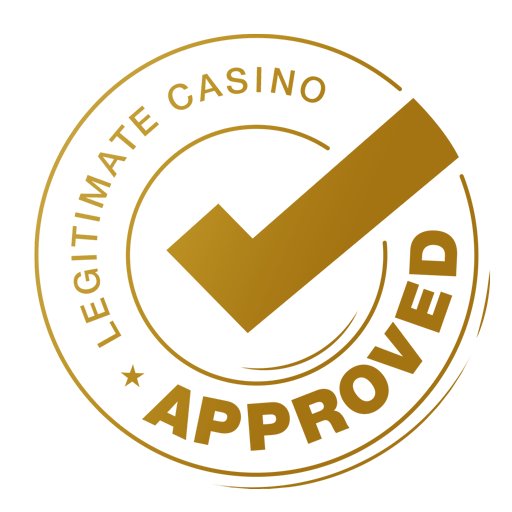 If you're aiming for a big payout, always look for sites that offer the full paytable for the game you want to play. This means that the online casino is running a version of the game that provides the player with the standard rate of return.
Payouts may vary significantly for the same game from one casino to the next so it is important that you take the time to compare the pay tables in the section above with that offered by the online casino of your choice.
Pay Attention To The RTP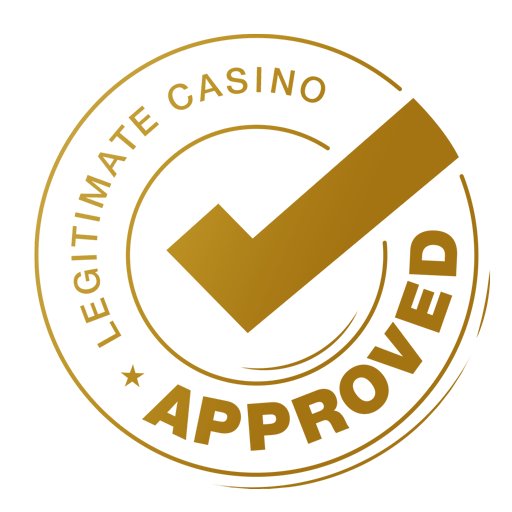 RTP stands for Return to Player and represents the statistical probability of money being given back to the player over time. To put it in simple terms: if you make 100 $1 bets on a video poker game with an RTP of 99% (which is not uncommon), you can expect to make back $99 overtime. 
It is important to understand that RTP represents long-term probability. Anything can happen in the short term, so if a video poker game has an RTP over 100%, you may not see any results immediately. This is something called short-term volatility versus long-term predictability. 
You're All Set To Play Video Poker And Win!
We weren't joking when we said there's an insane amount of video poker games. It can be hard to choose which one to play, but hopefully, this list helps you out in your decision-making process.
You can play all the games we mentioned in this article at our recommended real money online casinos. RTP plays a huge role in casino games, so make sure you choose one that will make you the most money!