One of the leading iGaming software providers, Wazdan, has been on a superb streak when it comes to publishing new games for online casino lovers. They have launched recently their newest game called Magic Stars 6 which is a great space-exploration game that invites players to spin the reels and feel the magic of space and starts. Magic Stars 6 is actually one of the installments of the popular Magic Star series that has managed to gain a cult following among the slot lovers due to a unique approach, captivating animations, and lucrative prizes. Let's take a closer look at the latest game by Wazdan.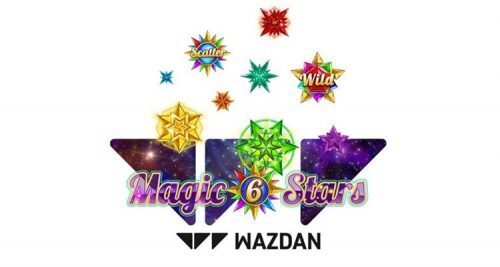 The game has six reels, which is a bit odd since traditional online slots usually have five reels. This is kind of explained by the fact that the game is called Magic Stars Six. Apart from this feature, players can also find a total of 20 paylines, along with several interesting bonus features and other cool symbols on the reels such as wilds, scatters, and more.
The Symbols
Speaking of the symbols, this space-themed video slot will offer a scatter and a wild. The wild has the power to substitute all the other symbols on the reels except for the scatter. Moreover, scatter and wild symbols can 'dance' all over the reels and help you revel other powerful bonus features such as a bonus spins feature that has an x3 multiplier that can enhance your wins if you are lucky enough.
Magic Stars 6 also includes the popular gambling feature which enables you to place a bet on your winnings and increase them if you are lucky or lose them all if you are out of luck. You can repeat the gamble feature up to seven consecutive times. The game offers a unique way to personalize your gameplay environment, just like all the other games released by Wazdan. First of all, you can choose what kind of volatility levels you prefer, by making a choice between low and high. Low volatility means that your wins will be more frequent, but that their value would be lower, while high volatility means vice versa.
Furthermore, players are allowed to choose whether they want to play the game in the Ultra Fast Mode, which basically skips all the fancy animations of wheels spinning. Furthermore, you can choose whether you want to trigger a double screen mode which is an option that enables you to have a paytable visible all the time as you spin the reels.
In the end, you can choose the Big Screen Mode which is a special feature that helps you adjust your game so that it fits your screen perfectly. The game is also available for mobile devices and features an Energy Saving more, as well as the Ultra Light Mode. Both of these can help you save your battery if you like to spin the reels on the go.