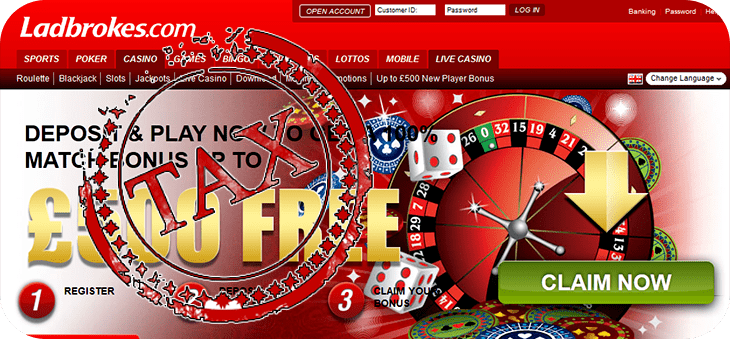 Online casinos and bingo operators licensed through the United Kingdom may be facing the potential to have a tax imposed on their Free Bets. This was being discussed during this year's budget meetings last Wednesday, led by Chancellor George Osborne. This budget plan was proposed to try and bring these casino operators closer to what sports betting sites currently have to pay; as they are hit with higher taxes. This could lead to problems down the road as there are already a few issues surrounding the high taxes imposed on sportsbooks, which could also start to affect the casinos.
How the High Taxes are Affecting the Market
Even though Ladbrokes and William Hill's shares have risen, 7% and 4.3% respectively, they are still experiencing some difficulties. Ladbrokes posted a 46% fall in pretax profit last month, and William Hill saw a drop in operating profit of 22% in 2015. The company said in a statement to the media,
"In profit terms, 2015 was always going to be a challenging year as the group faced substantial additional gambling taxes on its UK online and retail businesses, and group operating profit declined 22% to £291.4m."
They attribute this shortfall on the taxes and regulations imposed in the UK. Casinos and bingo operators already pay a 15% point-of-consumption tax, and with the proposal, this would add another 15% general betting duty. This new tax would include all forms of betting, including Free Bets that online casinos use to promote and market their games. However, it will only affect the bets made by players that live within the UK.
Getting Around the Tax
There is a loophole that online casino and bingo operators can implement in order to lower the amount they have to pay in taxes, and this could prove useful to those sites that may struggle at the beginning. As the new tax may take a while to be implemented, as it could start in August of 2017, this would give current casinos the opportunity to change or diminish the number of free bet offers. As stated after the budget meeting,
"We are beginning to see the industry moving towards offering enhanced odds instead to encourage punters through the door, this change in marketing will avoid the potential increased duty bill, so the Chancellor may not receive all of the revenue that he is anticipating over the five year period – £325m."
With casinos offering their players better odds, they could still bring in new bettors without having to resort to using free bets. The gambling industry in the UK is worth £7.1 billion, with the brick-and-mortar sector going up and down, but the online and mobile market have been seeing an increase in revenue; however, they use free bets and promotions as their main method, which could prove difficult in the future. The budget plan hasn't been approved yet, but casino and bingo operators are already preparing for the hit. Many are relieved that this proposal is the only new penalty, as they also anticipated an increase in the Machine Games Duty, but was not discussed on Wednesday.