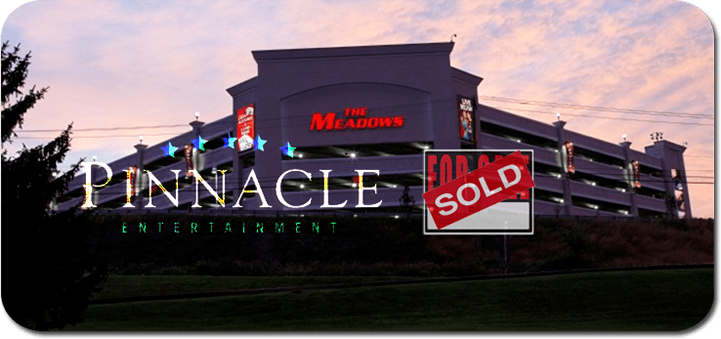 Big business may be coming back to The Meadows Racetrack and Casino located in Washington County, as the Las Vegas company Pinnacle Entertainment Inc. has just announced that they will be making a deal to take over operations of the casino. This comes as good news for not only the racetrack but for residents of the state as well, as this will inject a big revenue stream into the existing location. However, not everything is good news, as another casino license is being challenged.
Pinnacle's $138M Deal for Casino
In an unexpected turn of events, Pinnacle Entertainment has delivered a very generous offer to acquire the Meadows Racetrack and Casino, where they would be taking over the day-to-day operations, including the 180,000-foot property that houses the gaming floor and the harness racing track. It is currently owned by the Gaming and Leisure Properties (GLPI) group, which is a subsidiary of Penn National Gaming. Both of these companies have already had plenty of contacts before, as GPLI has already acquired some of Pinnacle's real estate assets last year.
Pinnacle counts with 15 different gaming locations spread throughout 8 states in the US but have yet to enter the Pennsylvania market. This will give them the chance to jump into a new market and expand, but the deal will cost them:
$138 million up-front cost for the gaming license and operating assets.
$25.5 million annual rent for the first 10 years.
Even though both parties have agreed to this arrangement, they still need approval from the Pennsylvania Gaming Control Board, as well as the Harness Racing Commission. Pinnacle plans to inject at least $400M as revolving credit facility and cash on hand.
Looking Closer at Stadium Casino's License
On the other side of the spectrum, we have the Pennsylvania Supreme Court ordering that the Gaming Control Board take a closer look at the 2014 decision to award their last casino license to Stadium Casino LLP. The location is owned by a joint venture between Cordish Cos. and Greenwood Gaming & Entertainment, which owns the Pennsylvania Parx Casino.
The allegations were brought forward by SugarHouse Gaming, who operate the other casino in Philadelphia and claim that the deal made to acquire the license is illegal. They state that Watche Manoukian, majority owner of the Parx, has control of over a third of the new casino; this is not allowed according to state law. The project is currently at $450 million, and its construction and opening would be jeopardized by this investigation. The GCB will take a good look into the actions of the venture and will determine its legality.