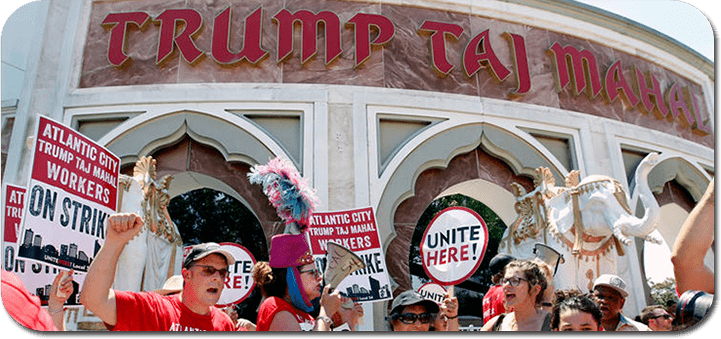 It has been over a month since the union workers of the Unite-HERE Local 54 went on strike at the beginning of July, walking out of their respective casinos. One of the main casinos that have suffered great losses from the strike is the Trump Taj Mahal. Even though it still carries the name of the billionaire trying his luck to get to the White House, it is currently owned by Carl Icahn; a fellow friend, businessman, and billionaire who bought the property and its debt over a year ago.
Casino Losing Money and Debt Rising
The Trump Taj Mahal casino was already in serious debt when Icahn bought the property; some $286 million in the hole. For the past 18 months, Icahn has stated that it has lost somewhere near $100 million, and with the strike moving into its 35th day, the losses are projected to continue. The 35 days of the strike has beaten the old record of 34 days that took place in 2004, where workers walked out on seven casinos.
Despite the fact that the Trump Taj Mahal has remained open during the strike, it comes as no surprise that they are still losing a lot of money; especially during the summer months when business picks up. With the amount of money already invested and lost by Icahn, he has decided that the best course of action would be to shut down the casino, for good. The decision to close wasn't taken lightly, and it is projected that they will close the doors after Labor Day, but may be later than that as they need to give 60-days notice to the workers.
Two Opposing Views; Owner vs Worker
Icahn didn't decide to close up shop due to the strike, but it did help, as millions of dollars were lost during the strike. As Icahn stated earlier in the week after announcing the closure,
"It was a bad bet. How much good money do you throw after bad?"
The workers union was fighting for the right to get compensated properly for their work, which no one will disagree with their right to health care and a livable salary. However, as president of Tropicana Entertainment, Tony Rodio said,
"Our directors cannot just allow the Taj to continue burning through tens of millions of dollars when the union has singlehandedly blocked any path to profitability."
It makes sense that a workers union is allowed to strike, but when a strike will affect the very foundation of what they are trying to accomplish seems to be counterproductive. With the closure of the casino, 3,000 people will be left without a job; adding to the already 8,000 jobs that were cut in 2014 when four other casinos closed. Middle ground was tried but failed. Both parties seemed to not want to compromise, and both parties make good arguments, but it is a shame that another casino will close in the iconic city.