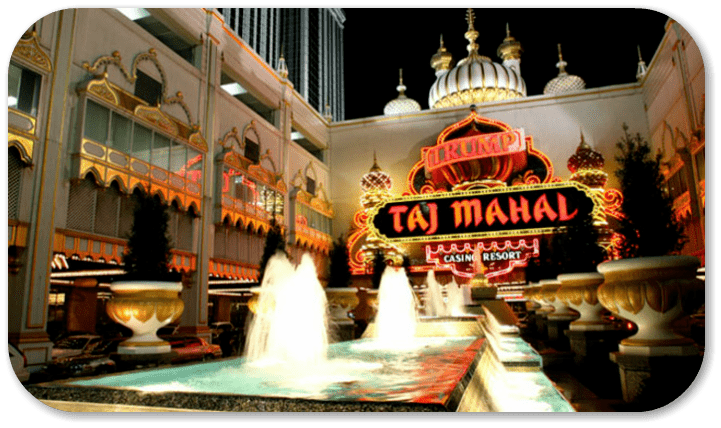 Trump doesn't have any Atlantic City-based casinos anymore, he's owned three Atlantic City casinos in the past, but one that still bears his name, the Trump Taj Mahal, will be going out of business Monday because it was losing millions of dollars a month. The casino will officially be closing down on Oct. 10 at 5:59 a.m., according to its website.
The closing of Trump Taj Mahal casino resort will result in thousands of lost jobs. There were more than 3,000 casino and restaurant employees working at the Trump Taj Mahal. Fortunately, many job opportunities are available at MGM National Harbor, as it is scheduled to open in December, and the casino is actively recruiting employees from Taj Mahal.
Comp and Slot Dollars Deadline
There is important deadline information on the Trump Taj website for gamblers. Comp dollars can be used until 11:59 p.m. Sunday, and bonus slot dollars and slot dollars can be used until the casino closes on Monday. All balances following the closing down of Trump Taj Mahal Casino will have no further value as they cannot be used at other casinos.
Taj Poker Room
The Taj Poker Room in Atlantic City attracted large crowds back in its glory days, with players from Atlantic City and around the country playing at one of the many tables, with action around the clock. The Taj poker room was once a premier destination for live poker outside of Vegas. 'The Taj' as it was known then, was "the center of the East Coast poker world," according to Brian Koppelman, who co-wrote the movie Rounders.
With the casino full of gamblers playing hard and fast – Donald Trump would have been feeling on top of the world. Although the reality is that he was sitting on a large chunk of debt. Being $1.2 billion in the hole, he was essentially doomed before even starting his new Atlantic City hotel casino venture. Three bankruptcies later, Trump basically just had his name on the side of the establishment. The new owner, Icahn Enterprises, didn't have anymore luck trying to turn Trump Taj Mahal Casino into a profitable venture again.
According to Roger Gros, publisher of Global Gaming Business magazine, "For the Taj Mahal to succeed, gamblers would have had to lose a million dollars a day there, and that was unheard of in Atlantic City at the time."
This week, the Trump Taj Mahal casino floor and 24 remaining poker tables were basically empty and many restaurants were closed as well. When the Trump Taj Mahal Casino had its grand opening in 1990, it was an extremely big deal. Michael Jackson, who at the time was at the peak of his career, was given a personal tour of the casino.