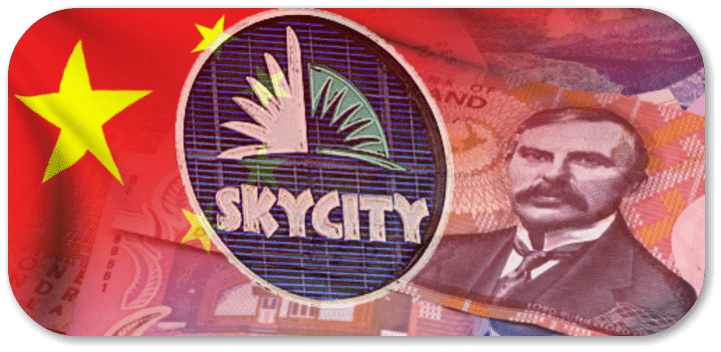 SkyCity interim chief executive John Mortensen has warned of adverse effects as a result of the Chinese government crackdown on corruption and illegal gambling which led to 18 Crown Resorts employees being detained in China, including a Melbourne senior executive. The detained employees could be facing up to 10 years jail time for "gambling-related crimes". As of Friday, no charges have been officially filed.
SkyCity Shares Take a Dive
Shares in SkyCity Entertainment Group fell 14 per cent after news there was a crackdown on gambling in mainland China, which would hurt the company's ability to attract wealthy Chinese gamblers to SkyCity owned casino properties. A push will definitely be made to attract VIP gamblers from other Asian countries in the region, including Singapore, the Philippines, Malaysia, and even Vietnam.
The SkyCity casino group owns and operates six casinos in Australia and New Zealand, but the New Zealand casino operator says they do not have offices in China or any Chinese-based employees. However, SkyCity did admit to having "independent contractors" in China that help manage customer relationships.
In a statement, SkyCity said that none of its contractors "have been questioned or detained" in relation to the Crown Resorts investigation, while assuring its contractors "comply with all relevant laws and regulations in China."
With that being said, SkyCity expects the crackdown to have a financial impact on the company "over the short-to-medium term." When elaborating on this, Mortensen said,
"You only need several of the larger players to defer trips or come in and not feel lucky and not play, and that impacts it," 
Although he declined to comment on the impact the China gaming crackdown could have beyond the immediate short-term.
"The outlook is relatively uncertain and we don't want to speculate on what the implications could be as we go forward for the next few months,"
In the financial year to June 2016, SkyCity's international business represented 15 percent of its normalized revenue, and 50 percent of the international business revenue was from Chinese gamblers.
Chinese Crackdown Not the Only Concern for NZ Casino Operator
SkyCity also reported revenue fell 5.7 percent to NZ$262.1 million for the last quarter ended September, attributing it to lower gaming activity at its Auckland-based casino, challenging trading conditions in Darwin, low revenue from its international business interests, as well as the high New Zealand dollar.
All of this resulted in SkyCity's share price falling to one-year lows of $3.69 NZD before the shares rebounded a bit prior to the end of trading on Friday.