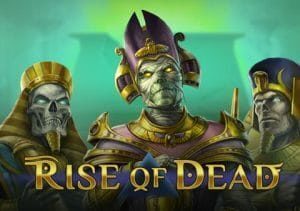 We all love to play some of the traditional slot games such as the Book of Ra. In fact, some themes, such as Ancient Egypt, have been re-made into numerous online slots.
If you like playing a game that features pyramids, scarab beetles, ankhs, and other symbols, you are going to find dozens of them on the web.
Play'n GO decided to follow this trend and released a game called Rise of Dead. At this point, you might wonder — why would an Egypt-themed slot have such a name?
Well, the team at Play'n GO decided to take an unusual turn and focus on something entirely new:
When you take a look at the artwork, you will see something creepy — mummies resurrected!
In other words, the dead pharaohs have risen once again to rule the land of Ancient Egypt. It's up to you to spin the reels and get the most out of this game.
Rise of Dead Features
This game is not an ordinary online video slot. In fact, every time you click the spin button, you will find that one symbol which is randomly chosen will automatically fill 12 consecutive slots on every reel. The name of this feature is called the Mega Stacks option!
Moreover, you can find other interesting features, such as the so-called ancient extra spins that you can activate once you get three scatters on the reels.
As soon as the extra spins feature begins, you will be able to extend it for two more free spins every time you get one scatter on the reels. In fact, you can re-trigger this feature as long as you get scatter symbols after every spin.
Gift of Gods
Perhaps the most important feature of this game is the Gift of Gods. To activate it, you only need to spin the reels and enjoy. In other words, it's randomly initiated as a part of the main game.
As soon as it is activated, you will see that the first, third and fifth reels are all matched and that the symbols are held in place. On the other hand, the second and fourth reels will continue spinning as usual.
This feature allows players to win better prizes when they spin this online video slot.
Johan Tornqvist, CEO of Play'n GO, stated in an official press release that Egyptian history, as well as mythology, were always popular subjects in films, TV, and games.
He added that they wanted to add "a different element to it," which is something that people were not able to experience before by playing online slots.
Therefore, if you feel like playing online slots that are inspired by Ancient Egypt, make sure to check this game out and try it for free.
It is definitely an unusual game, but it is also very exciting, with a lot of cool bonus features and captivating gameplay that can bring you valuable