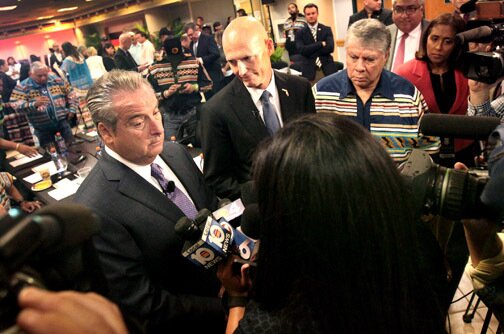 The Seminole Indians of Florida have been actively discussing a new gambling deal with the lawmakers of Florida in order to reach an agreement on how to further proceed with their cooperation. The problem arose when the state wanted to gain more control over the tribe's autonomous reign in the casino industry. Naturally, the Seminoles did not like the idea of Florida meddling with their business and immediately opposed it.
After a few turbulent months, the two sides reached a draft in order to avoid losing millions of dollars to the government. The draft was worded in such a manner so as to extend the peace and to give the Seminoles some control over sports betting. Naturally, the lawmakers of Florida also have some privileges as stated in the draft. However, the two sides are not content with it and are now again at an impasse with each other. That is to say, the draft is barely alive at this moment, and the warring sides are risking losing a lot if they don't reach an agreement soon.
The legislation of Florida is packing up its things as all legislative sessions end with no solution in sight. Reportedly, the Florida lawmakers will not accept any calls for special sessions that would address the issue or any other issue related to the problem at hand. That could mean the Seminoles would have to pay millions of dollars since no contact is active yet.
What Was In The Deal?
The deal allegedly turned very profitable for both sides and it was accepted by both of them at the moment it reached Governor Ron DeSantis. It offers the Seminoles the right to start a betting facility/sportsbook. Furthermore, it grants them the right to include roulette and craps in all Hard Rock venues located in the state of Florida.
Since pari-mutuels are not owned by the state, they would become a sort of 'affiliates' of the tribe and would be able to offer to bet on sports in specialized kiosks, with a cut going to the Seminoles' pocket. Reportedly, the state of Florida would earn approximately $400 million annually for the next 31 year. This was supposed to be one of the biggest revenue-sharing deal ever in the US that took place between a Native American tribe and a state.
Everything looks perfect for both sides as the new compact brings them both a lot of benefits, but there is still heavy opposition to it. One of the main reasons why the bad blood between the two sides started in the first place is because the Seminoles had an exclusive right to offer card games, but pari-mutuel tracks which are state-owned offered a version of their own, thus avoiding the law. This really made the Seminoles angry as they threatened to put a stop to payments to the state.