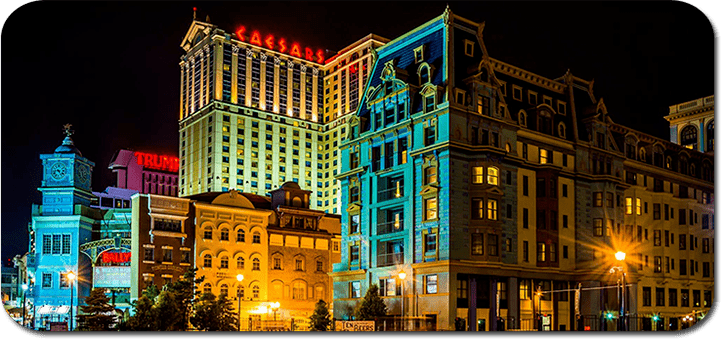 If there ever was a time to see whether online gambling works, it would be now. The perfect example is how well the New Jersey casinos are performing, as their revenues from April tell the whole story. A new record has been set, as the Atlantic City operators brought in nearly $17 million in revenue from their online counterparts. This is a big step forward, even when the brick-and-mortar locations are hurting, the segment on the internet is booming.
April Brings Big Money
The Division of Gaming Enforcement (DGE) recently released the April 2016 Gaming Revenue Results report, indicating that the amount of revenue generated by the online casinos has increased by 8.7% from March; a total of $16,980,749 was generated in April. The casino games are, in large part, responsible for the majority of the revenue generated, but the revenue that is being brought in by the emerging online poker market is giving it the boost it needs to continue breaking records.
This is how the month of April 2016 revenue is broken up:
| | | | |
| --- | --- | --- | --- |
| Operator | Casino Revenue | Poker Revenue | Total Revenue |
| Borgata / PartyPoker | $3,237,320 | $745,819 | $3,983,139 |
| Caesars / Harrah's / 888 | $2,493,681 | $664,189 | $3,157,870 |
| Golden Nugget / Betfair | $3,305,283 | $- | $3,305,283 |
| Resorts AC / PokerStars | $1,177,837 | $2,300,271 | $3,478,108 |
| Tropicana / Virgin | $3,056,349 | $- | $3,056,349 |
| Total: | $14,392,749 | $2,587,845 | $16,980,749 |
You can already see the enormous impact that the recently launched PokerStars is having as it brought in nearly 89% of the total poker revenue, and not to mention how it has given a huge boost to the Resorts Casino profit margin.
Continued Growth Expected to be Big
The expected growth of the online gambling market in New Jersey is expected to be big. Ever since it was regulated in 2013, we have seen the revenue steadily increase; with a few bumps along the road. However, since October 2015, each month has increased the revenue consistently.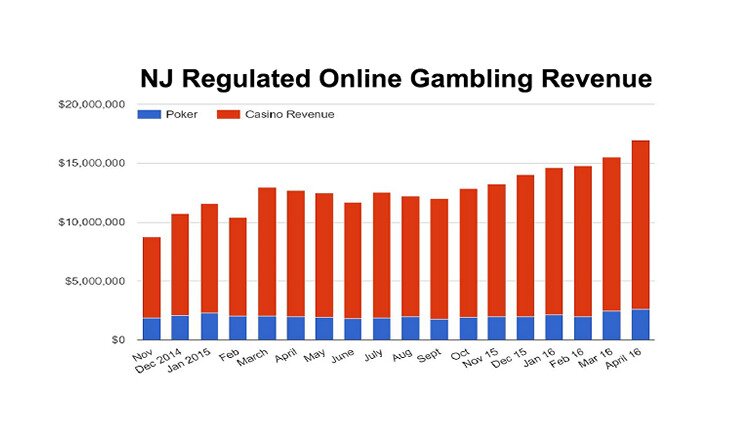 The total gaming revenue for April was of $215 million, with $17 million coming directly from online gambling, making it 12.6% of the total revenue generated. According to many of the operators in New Jersey, their online casinos actually have helped improve their brick-and-mortar revenue, seeing as how it attracts younger audiences, as well as being able to market and bring in these players for big events like the WSOP. The continued growth of the online casinos will certainly help bring back some of the much-needed prosperity the city needs.