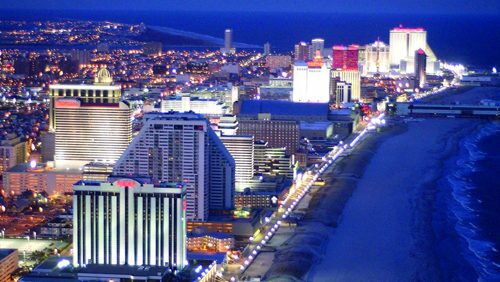 The reports do not seem to favor the Las Vegas Strip as they show that the revenue dropped in double digits. One of the reasons why Sin City might be in a bit of a tight spot is the spread of the sports betting industry that is being accepted in several other states, driving away cash influx to the state of Nevada, which was the only state to offer this type of gambling activity.
In fact, Las Vegas has been experiencing revenue drops for the last couple of months, and the Nevada Gaming Control Board (NGCB) disclosed evidence that the downward trend is likely to continue. To make matters worse, Nevada is not the leader of sports betting anymore, as New Jersey overtook it, officially becoming the leader in this industry. Therefore, if you want to visit the sports gambling capital of the United States, make sure to look twice, as you might end up in the wrong city.
What Do the Numbers Say?
Combined GGR (Gross Gaming Revenue) for all casinos on the strip was $981.8 million in April, which is 6% lower than the 22% seen a year before. The aggregate decline was reported by the Las Vegas Strip casinos of 11%, with baccarat being struck the most — 55% decline to $53.85 million with a win rate of less than 8%. Blackjack was also influenced by this downward trend, with a reported decline of 14.8% to $67.4 million. One of the things that actually improved in comparison to last year is penny slots, which reported an increase of 6.3% to $117.8 million.
When is come to sportsbooks, those in New Jersey did a bit better than those in Vegas, printing a total of $318.9 million in wager slips. In comparison, sportsbooks in Nevada printed a total of $317.4 — a difference quite small yet significant enough to dethrone Nevada. Sportsbooks in Nevada managed only to register a 3.55% hold rate, which means they took about $11.26 million out of the $318.9 million.
An Expected Outcome For the Gambling Industry
In other words, the fact that New Jersey is going to take over has been quite expected. It had to happen at one point, and that is something that the entire gambling industry in the US knew from the moment sports betting was legalized. The Garden State became the new gambling rival to Nevada, as predicted by its Governor Phil Murphy in April.
Nevada is still the gambling state and the best party state not only in the US but in the entire world. People still love visiting Vegas, but it seems that it has got some new and strong competition, led by New Jersey. Therefore, it will definitely be interesting to witness how things are going to unfold in the future, and whether New Jersey is going to beat Nevada in the sports gambling race.