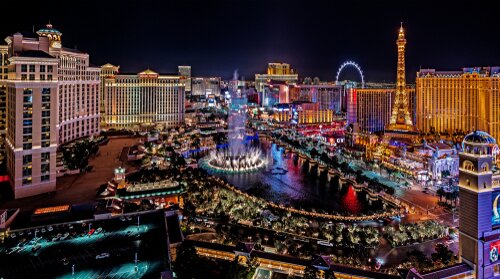 In early-2020, when the global COVID-19 pandemic began to unfold, many industry experts predicted that the gambling industry would take a massive revenue hit and that it would not be before 2023 that it would bounce back to pre-pandemic levels.
However, the road to recovery proved much swifter than most people had anticipated.
And in 2021, Nevada had its best year ever, as the Silver State generated slightly over $13.4 billion in revenues. Additionally, according to the Nevada Gaming Control Board, February 2022 marked the twelfth consecutive month the state pulled in over one billion in revenues. The $1.1 billion it raked in from these 28 days surpassed Nevada's record set in January.
The February Milestone
Nevada's February 2022 revenue generation of $1.1 billion represents a 44% increase year-on-year. In the same month last year, the state produced $772 million. That was a 7% spike compared to the number February 2020 was responsible for, right when the pandemic was starting.
Many credited the high number of concerts in Sin City, paired with a sports betting frenzy connected to the Super Bowl and the city hosting the NHL All-Star Game, as the main factors for the February milestone.
Per various analysts, including Nevada Gaming Control Board's Micheal Lawton, Nevada's highly successful streak will undoubtedly end soon, primarily due to inflation and rising gas prices resulting from the Russia-Ukraine conflict. Lawton recently stated that he is optimistic that the current level of gaming wins will continue in the upcoming months.
Nevertheless – "We are dealing with many geopolitical and macro-economic events that may influence trends noticed in this past year."
That said, various casino directors are confident that March Madness, the NCAA College Basketball Tournament, will create enough interest in the third month of 2022 to carry over February's momentum to March. Statistics show that the majority of NCAA fans do not pay attention to the league until this final competition comes around.
Slot Machines Remain Nevada's Cash Cows
A widely held belief in the gambling sphere is that slots generate 60% to 80% of any venue's gaming revenues. They are, without question, the most represented product on casino floors and the simplest to play.
In 2021, Nevada's reel-spinning games brought in revenues of $9.2 billion. That is also a record for slots. Plus, it is a 16.4% improvement from pre-pandemic 2019, a year when the overall gaming revenues came to $12 billion. There are 306 casinos housing slot machines in Nevada, with 157 of these found in Clark County alone, 39 being Strip establishments.
In February, slots machines contributed to the monthly return of $1.1 billion with $764 million. That is 69%, and it is also a 44% growth year-on-year. The win percentage from these games came to 6.9%, and multi-denomination machines ranked highest in terms of money generation with $377 million. Penny slots trailed behind in second place with $282 million. Table, counter, and card games delivered $348.8m to February's total revenue.
The 2021 number got boosted by roulette's contribution of $428 million and the state's sportsbooks' amassing more than $1 billion in revenues, with 64% of these bets coming from smartphone devices, an increase of 7.5% juxtaposed to 2020.
2022 Should Be Another Record-Setting Year
One of America's top three credit rating agencies, along with Standard & Poor's and Moody's, Fitch Ratings, came out with a gaming-related report in November 2021, predicting that recovery for international visitation will occur in 2023 globally. Even though, in specific regions, short-term volatility will remain due to strict health codes. That does not apply to Nevada, as things are pretty much back to normal in America's favorite sun-stricken territory.
Global Market Advisors, the award-winning research and boutique management firm, believes that 2022 will be a booming time for the industry, which has shown resilience following the disastrous 2020.
To Sum Up
While sector numbers seem high, the industry has not made a full recovery yet.
Segments like international travel and business are still not back to where they were in 2019, and expectations are that this will not occur before 2024. At least, that is what Research firm Macquarie claims, believing that MGM will rise up quickest.