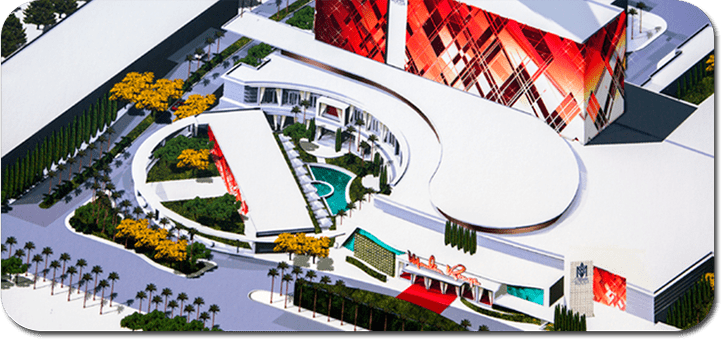 The once famous and iconic Las Vegas property, the Moulin Rouge Casino, is getting a much-needed face-lift, as the old building hasn't been getting the attention from tourists and gamblers as it once did. Earlier this week there was a groundbreaking ceremony performed at the location, right off the Strip at 900 Bonanza Road, as the new developers showed off their plans to the press.
Iconic Piece of Vegas History
As it was known when it opened in 1955, "the Rouge" was the front-runner and the very first casino to be racially integrated. It was built by Alexander Bisno and Louis Rubin, with some financial backing by the famous boxer Joe Louis. It had its door open for a mere six months before it had to close its doors, and several fires throughout the years have caused damages to the building.
By example, more casinos became racially integrated, but the Rouge had been able to attract some great people in its short existence including,
Duke Ellington
George Burns
Count Basie
Judy Garland
There have been several attempts to revive the old casino, but none met with much success. With the building structure itself damaged by the fires, it seems the new developers plan on starting from zero, rather than try to improve upon the current building.
The Rouge Casino Owners Plans
The current owners of the property are Moulin Rouge Holdings, and they will be in charge of bringing the old building back to its glory. The entire project is expected to cost around $100 million as they will need to rebuild the entire casino. The construction is expected to start a few weeks after the groundbreaking ceremony, and the doors are to re-open in 2019.
China Hudson, the spokesperson for the company, mentioned on their behalf regarding this big undertaking,
"We are hoping and wishing and praying that this hotel will be the heartbeat of the community. We want people to come here, feel here, party, have a great time. This won't just be a casino."
The old casino was renowned for their live shows, going from iconic musicians to choreographed dancing, so the owners hope to not only bring that level of entertainment back to the Strip but include a top-of-the-line casino floor and restaurant. We still don't know how many rooms the casino will have, but being in such a prime location, they will need plenty.