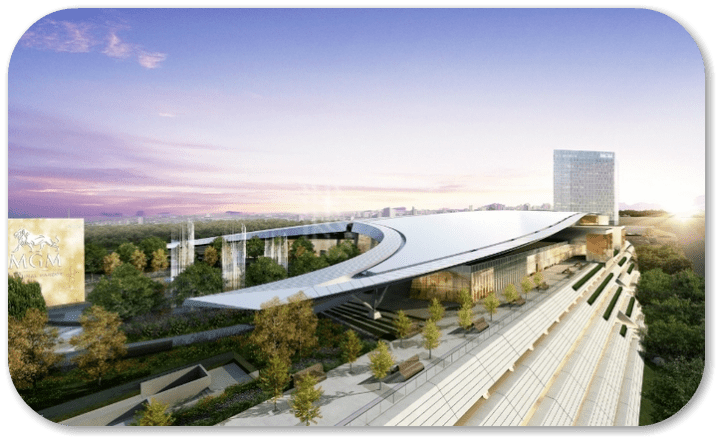 MGM National Harbor will have its grand opening on December 8, bringing the casino resort experience to National Harbor in Maryland, which is just minutes away from Washington DC. The Las Vegas-based casino operator received its Maryland casino license back in 2013. Since that time, Maryland casino gaming revenues have gone from strength to strength, with year-to-year increases.
MGM National Harbor will be the sixth and final casino to get approval for licensing in the state of Maryland. The 125,000 square feet casino will be home to 3,300 slot machines, a poker room, plus many table games. A 24-story luxury hotel is also connected to the casino and there are 5 types of suites available.
MGM Resorts says that its National Harbor development will be "the first luxury gaming resort experience" near the nation's capital. With a 3000-seat venue, you can be sure there will be plenty of non-gaming entertainment on offer for patrons. Bars and restaurants will also be available.
MGM National Harbor General Manager, Bill Boasberg, commented in a press release that:
"We spent a great deal of time conceptualizing our suite experience to ensure guests not only enjoy the level of luxury MGM Resorts offers at our properties worldwide, but also creates a seamless connection to our beautiful surroundings,"
The MGM National Harbor suites range in size from 588 to 3,210 sq. ft. – the largest being the Chairman Suites. Upon entering them, you are welcomed with a glass façade that provides a vantage point for the views of the nation's capital and its monuments. The $1.3 billion resort also overlooks the banks of the Potomac River. Following the grand opening celebrations, rooms will be ready for guests beginning December 10.
The highly anticipated MGM National Harbor Casino should is expected to add to Maryland's $3 million a month poker revenues and $100 million a month from casino gambling. Construction on the MGM National Harbor casino resort project had begun in May, 2014.
Here's a time-lapse video of the construction of the latest Maryland Casino: