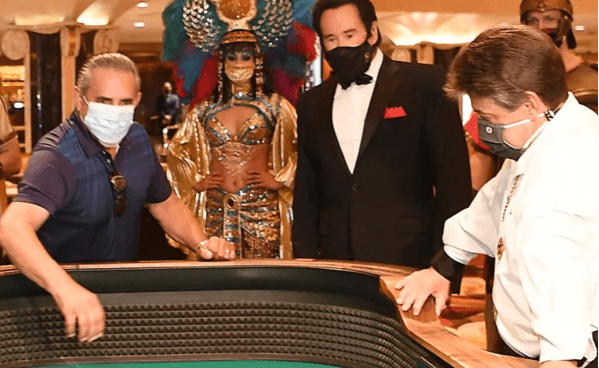 The COVID-19 pandemic took everyone by surprise. When the novel virus started to spread around the globe in March 2020, land-based venues everywhere shut down. Las Vegas ones were no exception.
Once they got up and running again, in the summer of 2020, mask-wearing was one of several mandatory health precautions on Vegas gaming floors. From that point on, things have been in a continuous state of flux regarding what people should do concerning protecting themselves from COVID-19.
As vaccination rates in the US increased, by June 2021, multiple health restrictions got removed from Sin City gambling floors. However, most of these made a comeback in late July 2021 via an emergency directive signed by Nevada Governor Steve Sisolak, when twelve out of the Battle Born State's seventeen counties made masks obligatory again. Clark County, the home of Las Vegas, was one of these territories.
Now, Sisolak, at a recent press conference, via his policy adviser Duane Young reinforced the mask mandate. Young stated that no matter how many people get vaccinated, this measure will remain in place throughout the winter months and the start of the New Year. Naturally, this decision is a reaction to the latest COVID-19 variant called Omicron, which originated from South Africa, and is spreading at a tremendous pace. 
What Health Measures Are Active in Las Vegas Now
There is no doubt that health precautions have been a thorn in the hospitality industry's side these past two years. As mentioned, the July directive mandated that masks must get worn by people that are not taking part in large-event gatherings. That is in keeping with the Centers for Disease Control's recommendations that all casino guests and employees must wear a face covering at all times.
What are large-event gatherings? They are indoor assemblies of over 4,000 people where all the participants are fully vaccinated. The Nevada Guidelines for Safe Gatherings outlines this rule. Nevertheless, each state venue has the right to set its health and safety protocols, and many have done so.
For example, MGM Grand Resorts became the first Vegas-based company to mandate that their employees get vaccinated. That is a rule that many gaming establishments have since implemented. Most have also started to adhere to the Sharecare standard. Sharecare is an Atlanta- based wellness company that provides information for health improvement.
Their COVID-19 protocol is a collection of more than 360 health security criteria that many Vegas resorts have begun administrating for visitor comfort and safety. The list of measures includes giving away free masks, frequent disinfection of gambling machines and tables, customers not being allowed to touch cards, everyone getting encouraged to use hand sanitizer, and practising physical distancing.
Will the Omicron Variant Bolster Online Gambling?
Once the initial set of stay-at-home measures got issued and land-based gaming spots began to shut down, online casinos saw a dramatic activity rise. At that time, only four US states allowed internet casino-style betting. They all showed a revenue boost as the pandemic drove most gamblers to play games of chance on their smartphones.
In April 2020, Delaware saw its online casino revenues lifted by two-thirds, and New Jersey's internet gaming intake increased by 23%. In Pennsylvania, virtual bets pulled in around $500 million in March of that year.
The habits attained during 2020 seemed to have remained throughout 2021. Evidence of this is Pennsylvania and New Jersey raking in over a billion dollars in gross gaming revenues from online casinos in a single year (2021).
Now, as most experts believe that the Omicron variant will lower casino foot traffic, it is reasonable to expect that gambling site activity will soar to previously unattained heights, with everyone shattering online casino records set in 2020 and 2021.