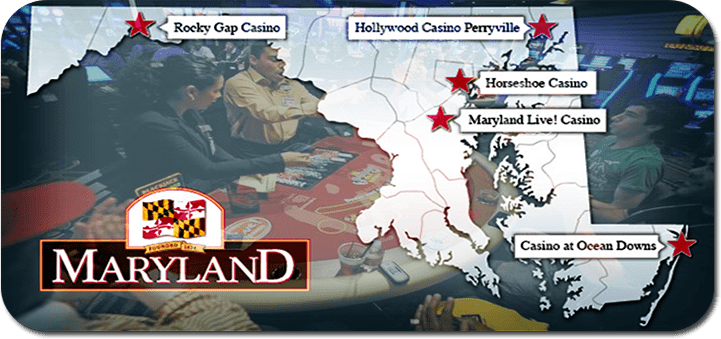 Brick-and-mortar casino revenues in the state of Maryland again break records. Following on from a good month in July, they have posted a gross revenue increase, doing so nine months in a row.
In August, the five casinos topped gross gaming revenues of $100 million from slot machines and table games, according to the figures released by The Maryland Lottery and Gaming Control Agency. Looking at the year-to-year comparison, gaming revenues have increased by 3.7%. Maryland casinos pulled in $3,565,068 more in August 2016 than in August 2015.
Revenue Generated From Maryland Casinos in August
Maryland Live Casino, the biggest casino in the state of Maryland with more than 2500 workers on site, is still raking in the millions. This casino accounted for $55.9 million of total revenues alone for the state in the month of August 2016, which was an increase of 7.25% from August 2015, although it remains worried about the $1.2 billion neighboring development of MGM's National Harbor Casino, which will include 125,000-square-foot of casino floor space, a 3,000-seat theater plus a 21-level hotel. It is scheduled to open in December 2016.
The Horseshoe Casino Baltimore, which had its second anniversary in August, experienced a modest 0.5% revenue increase over the same time period last year, with $27.7 million in revenues to speak of.
Casino at Oceans Down, which is in Berlin, Maryland, managed to generate $6.2 million of the August revenues, a 2.1% year-to-year increase. It is typical of this casino to generate more revenue during the summer months.
Rocky Gap Casino Resort accounted for $4.6 million in revenue, which saw an increase of 3.4% which gave another nice boost.
Hollywood Casino Perryville, which is owned and operated by Gaming and Leisure Properties, was the only Maryland casino to report a revenue decrease. It reported total gaming revenues of $5.9 million in August 2016 from slots and table games. This is down year-to-year by nearly 10%.
Of course, it is not just slot machines and table games that you will find at Maryland casinos. In addition to the regular cash games and tournaments, The Horseshoe Casino Baltimore will host World Series of Poker circuit events in April and May of 2017, and the Poker Night in America crew regularly travels to Maryland Live Casino for their televised invitation-only cash game sessions.