The Chief Executive of Macau, Ho Iat Seng, ordered all 41 casinos that are located in Macau to stop all operations and shut down for a fortnight minimum. However, the shutdown might last longer if the situation requires so.
Coronavirus Spreading Quickly
The coronavirus is still spreading in mainland China very quickly, with thousands who are already affected and hundreds dying from the disease. With more than 20,000 confirmed cases, the situation has dictated that many provinces both in mainland China and in related territories close their borders.
Macau is described as a special administrative region of China, and it is also one of the places where several cases of the coronavirus were reported.
Officials of this city closed all schools and many other public places. However, casinos are still open.
Casinos Try To Implement Extra Security Measures
In fact, casinos in Macau decided to implement measures that involve measuring the body temperature of everyone who decides to enter one of the properties. Moreover, all workers and visitors alike had to wear protective masks to minimize the spreading of the coronavirus.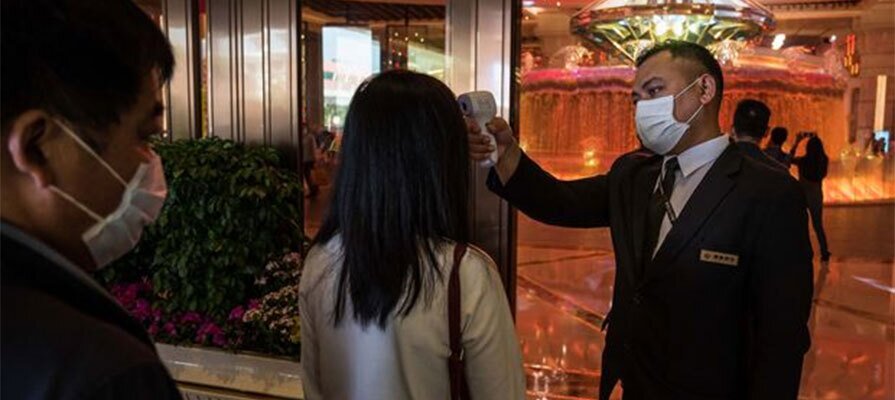 Finally, casino workers reserved the right to deny the entrance of any person who admitted being in the province of Hubei in the last two weeks.
But that doesn't seem to be enough, as the virus still spreads very fast, with many people being infected all over China.
That's why officials of Macau considered asking all casinos operators to shut down their operations in the area. Apart from that, they asked them to provide accommodation for all workers in Macau who cannot return home to mainland China.
Seng Makes An Announcement
Ho Iat Seng is Chief Executive of Macau, and he recently made an announcement at a press conference that officials would consider asking casinos to shut down. According to Macau Business, Seng stated that he and his team had had a meeting where they had discussed whether casino services should be suspended in the region.
He added that they would meet with all casino concessionaires, as well as legal advisors, to consider shutting down casinos.
Closing Casinos Is A Big Step
Seng added that he understood that shutting down casinos for such a long time would be a very strict measure to take, but that the health of all residents must be the priority.
He added that the measure would definitely affect the local economy, but that they had to "face the challenge."
Officials of Macau were under pressure for several days, as a group that represents the workers in casinos in Macau strongly advocated for a two-week closure to protect the workers.
Worry Over Virus In Region
Although there are only 10 confirmed cases in the area, workers are still worried that unsanitary gamblers could contribute to the virus spreading further.
Even if casinos refuse to close, all the businesses in the area will dry up very soon as the number of people in Macau will significantly drop as long as the coronavirus is spreading rapidly.