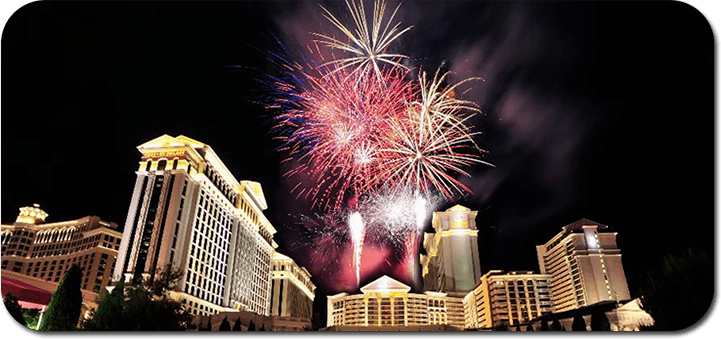 Every year Las Vegas, its casinos, and surrounding areas, becomes one of the biggest tourist's spots to go and celebrate during the Fourth of July weekend. However, things have changed very recently, making popular destinations not so popular. With the recent terrorist attacks suffered in Orlando, people will be needing higher security to feel safe. This has led to Las Vegas and their casino hosts to try and balance higher security, while still being able to create the celebration most wish to see.
Las Vegas #51 Destination
Despite no longer being in the Top 50, Vegas has been able to maintain a good standing by offering good holiday costs and a high degree of fun. Ranking 51 still makes it out to be a great spot to go and celebrate the US Independence Day with friends and family, and watching the amazing firework shows that the casinos provide.
Even if their score has worsened, the celebration must continue.
DATE
CASINO
EVENT
TIME
July 1st
Palace Station Hotel & Casino
40th Anniversary Celebration
9:00 PM
July 2nd
Mandalay Bay Beach
Red White & Boom
8:30 PM
Laughlin Riverwalk
Rockets Over the River
9:00 PM
July 3rd
Mandalay Bay Beach
Red White & Boom
8:30 PM
Laughlin Riverwalk
Rockets Over the River
9:00 PM
Stratosphere Hotel & Casino
Fun on the Fourth
9:00 PM
Caesars Palace
50th Anniversary Celebration
9:00 PM
Lake Las Vegas
Symphony & Fireworks Show
9:00 PM
July 4th
Laughlin Riverwalk
Rockets Over the River
9:00 PM
Mission Hills Park
July Fourth Celebration
9:00 PM
Veterans Memorial Park
Damboree Celebration
9:00 PM
Petrack Park
Pahrump Liberty Festival
9:00 PM
Eureka Casino Resort
Rockets Over Red Mesa
9:00 PM
These only include the popular casino destinations, but the entire city of Las Vegas, including its surrounding areas are great places to go and be a part of great celebrations that occur right on July 4th, including:
Moapa Valley Independence Day Celebration
Summerlin Council Patriotic Parade
City of Henderson 4th of July Celebration
Las Vegas 51s 4th of July Celebration
This is certainly a time to celebrate, and hopefully, the security can provide everyone with the safety they require to be able to cheerfully enjoy the Fourth of July celebrations, not only in Las Vegas and its casinos but all around the United States.