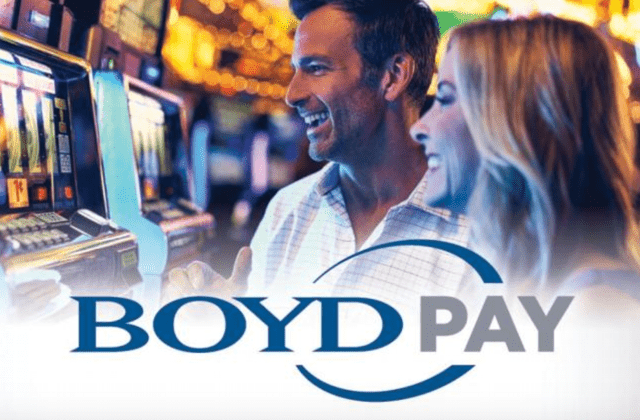 It is no secret that as a consequence of the global pandemic, the brick-and-mortar casino sector has been suffering, noticing a dramatic drop in annual revenues for the first time in decades. On the other hand, online real money casinos, poker, and sports betting sites flourished as governments encouraged people to stay at home and not mingle. 
Fortune Business Insights now predicts that the online market will grow to hit a size of $158 billion in the next six years. Thus, in an attempt to catch up to their internet counterparts, land-based operators are now looking to introduce cashless payment solutions for table games.  These are a more health-conscious and swifter way to handle money transactions on gaming floors.
The two juggernauts that announced their intentions of tackling this challenge first are Boyd Gaming and Aristocrat Leisure. They will do so via the Boyd Pay wallet, a cashless transaction option powered by digital wallet technology developed by Aristocrat Gaming. It uses the Oasis 360 casino management system powered by Genesis Gaming's TrackIT software. 
What Is The Boyd Pay Wallet?
Boyd Pay wallet will allow guests to bet using QR codes. The method is in a trial phase via a partnership with Genesis at Boyd Gaming's Aliante Casino in North Las Vegas. It follows a previous test run that focused on slot enthusiasts utilizing this option.
According to Blake Rampmaier, Boyd Gaming Senior Vice President and Chief Information Officer – "Boyd Pay is an effort to leverage modern technology to enhance the gambling experience at our properties. Boyd Gaming, in collaboration with Aristocrat, plans to continue adding the best mobile cashless betting solutions to our gaming floors, further driving innovation in the industry."
How The Wallet Will Work
Once officially available, the Boyd Pay Wallet will get integrated into the Boyd B Connected mobile software. Therefore, gamblers will be able to use their smartphones to quickly fund their gaming activity without having to redeem chips at a cage or walk to an ATM to take out cash. 
The entire process will get completed in seconds, with them not even leaving their chair. After they finish playing, they will have the option to complete a similar procedure which will allow them to have their winnings transferred to their Boyd Pay Wallet.
Per Aristocrat's Executive Vice President of Customer Experience Solutions, Cath Burns – "Improving the guest journey is at the heart of what we do. This technology shows that we are 100% committed to offering the best experience for both operators and patrons."  The use of the Boyd Pay Wallet will reduce costs on the operator's end and provide gamblers with responsible betting features that will help keep their impulses in check when at gaming venues.
System To Be Launched In 28 Casinos Across 10 States
Boyd Gaming hopes that if the trial is successful, it will launch this system across its twenty-eight properties in ten US states. In 2018, it made headlines by striking a partnership with the FanDuel Group, with which it founded the Stardust-branded online casinos in Pennsylvania and New Jersey in April this year. 
Aristocrat Leisure made the news cycle in mid-October due to them finalizing a deal to purchase UK-based interactive gaming pioneer Playtech for $3.7 billion. The agreement instantly boosted the scale and profile of the Australian casino machines manufacture, as it now breaks into the online sphere. 
Expectations are that Playtech's Italy-based Snaitech will lead the way in the company conquering new European markets. Possibly even aiding them to branch off into North America, where an iGaming boom is waiting to happen. At the moment, only five US states allow online casino gambling for those residing within their borders.