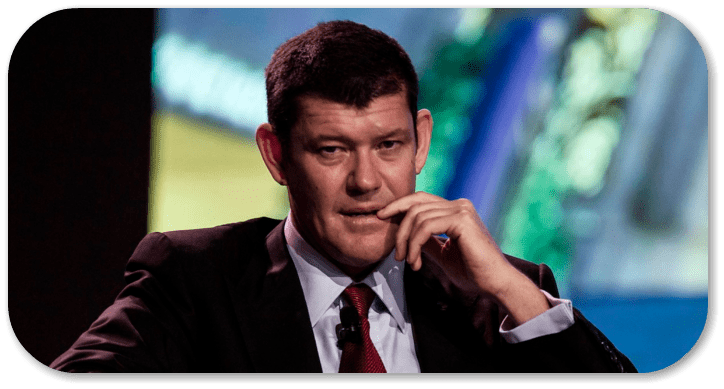 James Packer has sold 35 million shares of Crown Resorts at $12.80 per share, a 5 per cent discount to Crown's closing price on Friday.
Packer Relinquishing His Majority Stake in Crown
Through Consolidated Press Holdings (CPH), Packer will now own 48.2 percent of the $10 billion company, cutting its stake from 53 percent, but will remain the biggest shareholder of the company. Crown Resorts Group owns casinos in Melbourne, Perth, a stake in a Macau casino, plus its new multi-billion dollar Barangaroo development in Sydney.
According to The Australian Financial Review, Packer relinquished a majority share in Crown to pay debt following a settlement with his sister Gretel to divide the Packer family assets. You can read the full story here. The $1.25 billion settlement of the inheritance comes nearly a decade after their father, Kerry Packer, passed away, and it finalizes their will. The deal was structured such that Ms Packer will be paid in a series of cash installments, and the windfall will include among other things, shares in Crown Resorts and digital property company Zillow.
Prior to the Crown Resorts Share Selloff
This comes just two months after Crown Resorts announced they would split their "high performing" domestic and international businesses under a major restructure, including a US$2 billion (HK$15.6 billion) stake in Melco Crown Entertainment to help reduce its large debt load. CPH legal counsel and company secretary Catherine Davies stressed in a letter that the group "remains deeply committed to Crown Resorts and is excited about the future of the company."
Mr Packer's influence over the company has been diminished. In 2015, he stepped down from his positions as chairman and as a director of Crown Resorts following a smooth transition by Robert Rankin in the chairman role. The casino magnate said at the time that "Crown is my biggest professional priority and represents the vast majority of my net wealth."
Crown Resorts share price closed at $13.19 after hitting a 12-month high of $13.89 two weeks ago. Earlier in the year, CPH executive director Michael Johnston said that the Crown brand would not be materially ­affected by the settlement, and according to accounts, Consolidated Press posted a net profit of AU$948.8 million in the previous year to June 30, which jumped by 146.4 percent when compared to the same time the year before. This includes $600 million from selling 155 million shares in Melco Crown Entertainment (MCE), their Macau-based casino operations. It still owns a 27.4 percent stake in the company.