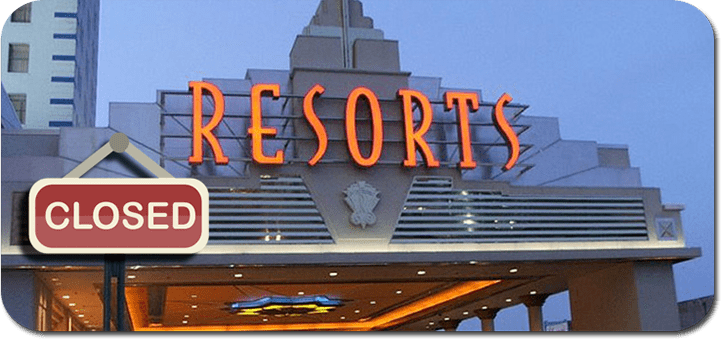 In just a few months the fate of several Atlantic City casinos will be decided when the state voters approve or decline the construction of two new casinos in the northern New Jersey. A credit rating agency, Fitch Ratings, speculated that if the motion were to pass and the two new competing properties are built, that four of the eight remaining casinos in the city will most likely have to be closed. This came as a warning to the voters of what the potential consequences could be.
Out with the Old, In with the New Casinos
Due to the expansion of legalized gambling in nearby states, like New York, Atlantic City has faced hardships with trying to keep their own casinos from going under. However, gaming revenue has been dropping steadily, and in an effort to increase the taxes generated for the state, New Jersey has decided to try and expand their reach. However, it could come at a high price, with four casinos possibly being closed. The four that are in danger include:
Trump Taj Mahal
Resorts Casino
Golden Nugget
Bally's
The Trump Taj Mahal has been on the verge of bankruptcy for several years now, but hope had returned in the form of billionaire Carl Icahn. However, he will not invest $100 million of his money to save the casino if the motion to build two new megaresorts passes. He, as well as some of the other casino owners like Mark Giannantonio president of the Resorts Casino, have determined that these new properties will take revenue away from them.
The Numbers Never Lie
Fitch Ratings, through extensive research, deducted that if the motion were to pass, it would take up to 4 years for one or both properties to be built; a year to pass regulatory legislation, a one-year bidding process, and a two-year construction phase. They also stated that depending on how much revenue is removed from Atlantic City, it would determine the fate of the four casinos mentioned before.
Percent of Revenue Removed
Casinos in Jeopardy
25%
All Four Could Close
10% – 20%
Trump Taj Mahal

Resorts Casino
The Golden Nugget would be one of the safest casinos out of the four as they are the most profitable; however if the new megaresorts take away 25% of the revenue, even they won't be safe. Many advocates for this measure have made it their business to lead the rally towards approval,
"An expansion of casino gaming to Northern New Jersey would provide thousands of construction and permanent jobs and benefit the entire state."
This could very well happen, the state would receive higher tax revenue and increase jobs, but does the benefit outweigh the cost. This will be an all-out battle between the voters and the casino owners.