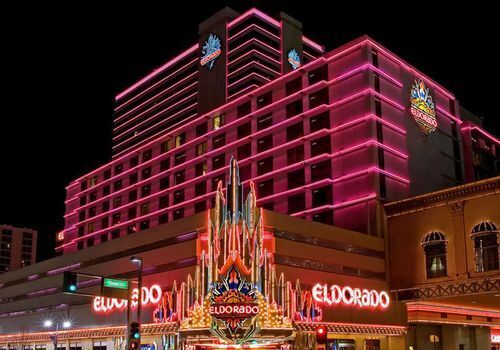 The CEO of Eldorado Resorts stated that this casino operator has been doing pretty well lately and that the dodgy weather in the past couple of months resulted in great Q1 numbers for this company. He was pretty satisfied with how everything was going with the company and the fact that sports betting attracted younger people to their casinos.
At the same time, the CEO avoided questions about the potential merger with Caesars Entertainment that has been the main topic of discussion among casino lovers for a while. According to a report from Eldorado, the company generated revenue of $627.7 million, operating income of $123.7 million. Furthermore, they recorded adjusted earnings of $166.5 million and their net income was $20.85 million. This was all recorded in January, February, and March, ending on March 31. It is a bit difficult to make the year-on-year comparison as the company acquired Tropicana Entertainment during the last year (which was a $1.85 billion acquisition), and the properties in Pennsylvania changed hands a couple of times.
In other words, the number of casinos operated by Eldorado changed and it is a rather daunting task to make comparisons. We can make a rough estimate, and state that out of 26 properties that are operated by Eldorado Resorts all over the US at the moment, 17 have reported increased earnings in comparison to last year, and nine of those properties even reported a double-digit increase. All of the gains were pretty unusual for the time period, as Q1 is often faced with bad weather, but the CEO of Eldorado, Thomas Reeg, claimed that he had heard a lot about things such as 'bomb cyclones and polar vortexes' to last him for a long time.
Is Eldorado Playing An Acquisition Game?
Nobody is still sure how Eldorado and Caesars are going to merge, but everyone is quite certain at this point that some kind of merger and acquisition is going to happen. The great numbers for Eldorado were somewhat strange and there were even rumors that the company is involved in 'some kind of play' in order to make a successful acquisition of Caesars which is its bigger rival. The merger talks were a consequence of investor Carl Icahn buying a bigger share of Caesars. Icahn has a long history of buying companies and merging them, and it seems that Caesars is going to be one of them, with Eldorado being the most likely company to merge with it or acquire it.
Sports Betting Impact
Reeg was more than willing to talk about sports betting and its impact. He claimed that he had been very pleased with the results of sports betting which had been attracting younger people who were not a part of the original customer base that visited Eldorado's casinos. He mentioned that Eldorado's Mountaineer Casino in West Virginia had reported that sports betting earnings were up 30% during the first quarter.