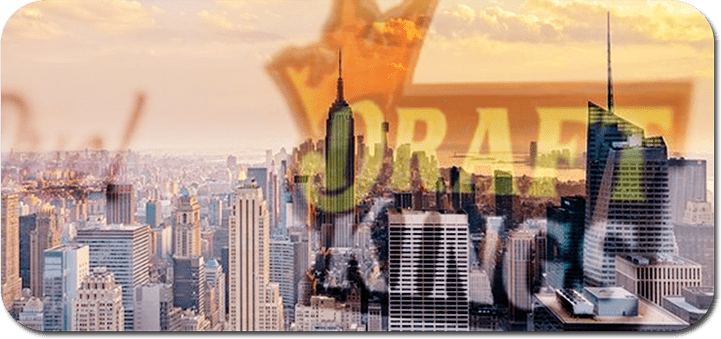 After much debate, DraftKings, FanDuel, and three other daily fantasy sports operators were allowed to resume their legitimate online gambling activities in the state of New York. The Gaming Commission gave these operators temporary permits on Monday until the whole DFS situation is finally resolved. With the recent change in law where daily fantasy sports are defined as a game of skill, it makes them legal to operate within the state, as the consumer protections are imposed.
New York is a Prime Market for Casinos & Gambling
New York is one of the most populated states within the US, and is one of the most lucrative markets that any casino or gambling enterprise could operate in; the others being California, New Jersey, and Pennsylvania. Seeing as how DraftKings is headquartered in New York, they were pushing hard for these measures to pass. Within a few hours of the permits being handed out, DraftKings was already offering games, as stated by their CEO Jason Robins,
"MLB pennant races are heating up, an exciting NFL season is just around the corner and we are thrilled to be able to bring DraftKings back to millions of New York sports fans. New Yorkers can play our games right now, and on behalf of everyone at our company, thank you, New York, and welcome back."
This news couldn't have come at a better time, with the NFL season about to start and the MLB playoffs in full swing. As the gaming commission works on the long-term regulations, operators will have to pay the $50,000 annual fee and 15% tax on their revenue; on top of only allowing those 18 years old and above to bet. The other DFS sites that were given permits include:
Safeguards to Protect New York Residents
By giving DFS the status as a game of skill, New York lawmakers believe they are able to protect the New York residents that use these services in a better capacity. They are still working out the specific details, as commission Executive Director Robert Williams said,
"These temporary permits get companies up and running in New York state while assuring resident players that safeguards are in place."
With better safeguards in place, they will be able to regulate the DFS sites and operators, being able to keep the shenanigans to a minimum and keeping everything legitimate.