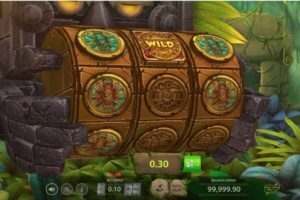 Bet-Fee Limited may not sound like a familiar name to the majority of slot lovers out there, but they are quite a pleasant surprise as their unique approach to developing slots has left many mesmerized. In fact, they managed to grow their portfolio by regularly publishing outstanding online video slots, one of the latest additions being Aztec Adventure.
The ancient Aztec civilization has left many unexplored riches all over the South American continent. Some of the symbols they have, including various peculiar totems and statues, are said to be priceless, and it takes a really brave explorer to go into the heart of the Amazon and find the fortune so masterfully hidden by the Aztecs.
The Design Is Outstanding
If we were to point the single best thing about Aztec Adventure, it would be the design and animations. People who had an opportunity to play Crash Bandicoot games on PS1 will be able to draw a lot of similarities between Crash and Aztec Adventure in terms of animations and design. The totem looks like a lot of figures you would usually find in this legendary game. Animations are really taken to the next level by the amazing team at Bet-Free Limited, as they managed to smooth things out and make Aztec Adventure a real joy to play.
In Aztec Adventure, you assume the role of one such adventurer who is facing a peculiar thing located at the heart of the forest. Namely, a huge totem seems to be animated and is moving! This totem is holding a three-reeled slot filled with ancient symbols that you need to combine in the proper way in order to get rewarded by this interesting stone giant.
The Gameplay and Special Features
BF Games decided to make things pretty straightforward with a 3×3 reel structure. There are a total of eight symbols, four of them being high-paying ones. All of the symbols are some kind of ancient Aztec decoration that you usually see in games and movies. Furthermore, the game includes two special symbols: the Scatter and the Wild symbols. Just like every other Wild, this one has the power to replace any other symbol on the reels and help you win valuable prizes. However, there is one symbol that cannot be substituted by the Wild, and that is the Scatter.
If you manage to land three Scatters on the reels, you will have an opportunity to win 15 free games during which an alternate set of reels is used. You can even retrigger the free spin games by winning another three scatter symbols. In other words, there is a chance to win up to 30 free spins if you are really lucky! Finally, the game includes the gambling feature, which you can use to double up your amount every time you make a valuable combo on the reels. All you need to do is choose red or black. If your color matches the displayed color, you will double up your winnings. Otherwise, you lose it all.