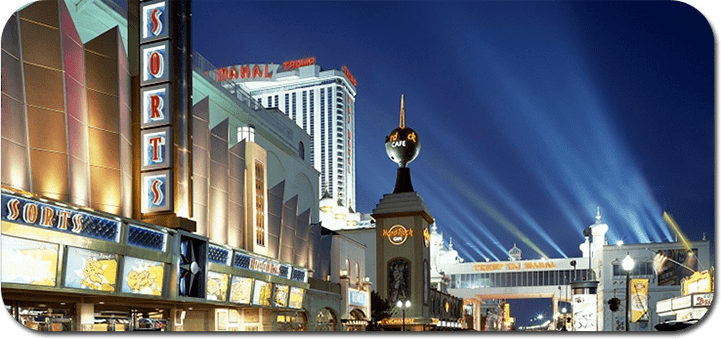 Despite having been in fear of bankruptcy just a few months ago, the eight Atlantic City casinos are actually turning a profit, and even better is that they have increased their operating profit in a big way. Every casino was able to post profits for 2015, even the declining Trump Taj Mahal. This is great news, as operators, legislators, and local government was looking for something positive among the debate to expand or not.
The Numbers Never Lie
The New Jersey Division of Gaming Enforcement (DGE) released last Thursday the figures that the eight casinos posted for 2015.
Their operating profits, which doesn't take into account taxes and other expenses, rose a whopping 40.3% up to $547.4 million.
Eight casinos revenue went up 2.3% to $3.7 billion.
Combined gaming revenue went up 3.1% to $2.5 billion.
Room revenue went up 0.8% to $406 million.
Food and Beverage revenue also went up 0.8% to $441 million.
The one area revenue fell short was with Entertainment and Other, which fell 1.2% to $151 million.
This shows that in almost every single corner of the market the numbers are increasing. Although the overall revenue figures are still small, they are still posting profits that were losses in 2014. Each one of the casinos has done a good job staying above water, and this could create a rising trend in gambling for the state.
Casino Breakdown of Revenue
Each one of the Atlantic City casinos was able to post a profit for 2015, which is great news for everyone. Not all of them were able to get the same numbers, but based on their 2014 losses, these are exceptionally great figures to have.
| | | |
| --- | --- | --- |
| Casino | Percent | Profits |
| Resorts | 525% | $15.6M |
| Golden Nugget | 396% | $22.6M |
| Bally's | 77% | $39.9M |
| Caesars | 39% | 83.4M |
| Borgata | 36% | $216M |
| Harrah's | 26% | $122M |
| Trump Taj Mahal | – | $3.1M |
It was no surprise that the Borgata was able to make the majority of the operating profits, taking in nearly 40% of the total. That isn't the only good news for the casino, as a Judge declared that they had been overpaying on their property taxes since 2009, and the AC government violated an agreement to repay them $88.2 million. This ruling will allow the Borgata to lawyer-up and get their money back.
The city itself is in peril, as they say they cannot cover the expenses of non-essential services or pay municipal employees. If this continues, the Borgata may end up owning the Boardwalk. The casinos could take these profit numbers and possibly help with the financial problem of the city.