Unquestionably, the ongoing global pandemic wreaked havoc on multiple industries around the globe. Naturally, some of those most affected were ones operating in the hospitality sector, gambling businesses included.
In 2020, US casino numbers plunged to $30 billion, falling by 31.3% compared to the 2019 figure. Per the American Gaming Association (AGA), this number is the lowest one this sector has generated since 2003.
Thus, many experts predicted that it would not be until 2023 before the gambling sphere worldwide would attain its pre-pandemic levels and start growing again.
Yet, it seems like Christmas came early, as now the AGA reports that the American commercial casino sector managed to pull in $53 billion in 2021, making last year the best 365-day period in the industry's existence.
The $53 billion number represents a 21% increase to the one produced by 2019, the previous highest money-generating year on record. It shows that the dangers associated with catching the novel COVI-19 virus did not deter gamblers from visiting land-based establishments and playing in person despite the health and safety protocols they had to deal with and overcome en route to having some gambling fun.
According to AGA's president and CEO, Bill Miller, "These results are nothing short of remarkable."
In a recent webinar where he discussed the industry's 2021 staggering success, Miller noted that it is reflective of casinos across the US' commitment to the safety and health of their patrons. It is an outcome generated by the effectiveness of meeting customers' needs.
Please note that the AGA statistics do not include revenues generated by tribal establishments in the US, of which there are five hundred and twenty-five. Nevertheless, Bill Miller claims that CEOs of leading Native American gambling brands have shared with him that 2021 was the best year on record for them as well.
That said, while gaming is up, entertainment-related and travel revenues have been slow to return to normal.
Internet Sports Betting Expands, But Online Casino & Poker Still Pull Their Weight
As everyone keeping taps on the world of sports betting knows, the repeal of PASPA in 2018 opened the US market to retail and sports wagering action outside of just Nevada's borders.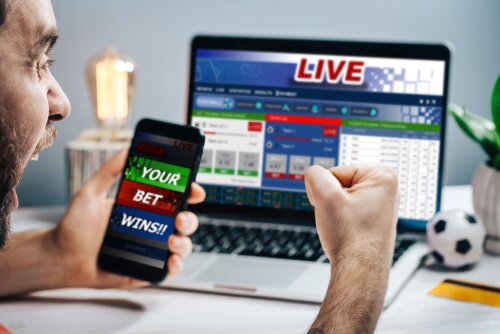 Hence, as in past years, sports betting continued its rapid expansion, growing by 165% compared to 2020. Since New York and Louisiana recently legalized mobile sports wagering, this sector should substantially swell in 2022.
The same should hold for US online casino gaming, which welcomed Connecticut to its fold in June 2021.
Last summer, the Land of Steady Habits became the sixth US state to pass a law allowing internet games of chance to its residents. It followed Michigan in joining Delaware, West Virginia, New Jersey, and Pennsylvania as American territories that permit local companies to offer online slots.
The combined revenues produced by the US internet sports betting and gaming sectors in 2021 totaled $8 billion, representing 15% of the sector's overall revenues.
More than Two-Thirds Of Gaming States Recorded Annual Records
The American Gaming Association tracker, which notes revenues in thirty-four regulated jurisdictions, posted numbers that show that twenty-three of these regions set commercial gaming revenue records in 2021. That impressive statistic includes four novel markets on the list.
Tennessee is by far the state that saw the most dramatic rise in gaming revenues in 2021, compared to 2020, with an increase in money generated by these activities skyrocketing by 784%.
Going by this metric, Michigan was in second place, featuring a rise of 322% in 2021, slightly higher than New Mexico's growth of 319%.
Nevada's operators are still the undisputed kings of this sphere concerning overall money pulled in by gaming. They generated $13.4 billion in 2021 from this pastime.
Unexpectedly, Pennsylvania did a little better than New Jersey last year by raking in $4.8 billion in revenues, compared to the Garden States' $4.7 billion. US states with figures above $2 billion include New York, Michigan, Ohio, and Louisiana. 
Final Thought
Market research firm Global Industry Analysts (GIA) released a market study titled – Gambling – Global Market Trajectory & Analytics in June 2021, claiming that the 2021 US numbers are only an indicator of things to come.
GIA believes that by 2026, the global gambling market will reach $876 billion in size, growing at an annual rate of 3.6% in the forecasted period.
Asia- Pacific is the region with the highest expected growth, expanding at a rate of 4.4% annually, mainly due to countries taking a laxer stance in legalizing gambling offline and online.
Worldwide the casino segment should start pulling in over $150 billion every year, with again Asia-Pacific being the fastest-growing market. Therefore, the gambling industry did not just rebound in 2021, but it picked up right where it left off in 2019.