December 28 is National Card Playing Day and it is the perfect opportunity for you to enjoy this centuries-old form of entertainment. Either with family and friends or at a legit online casino, commemorate this special day by playing your favorite card games for fun or even for real money. 
Thanks to legit online casinos, playing the card games that you already know and love – as well as some you might not have tried before – is a lot easier to do these days. Anyone with Internet access can now enjoy blackjack, poker, Texas hold'em, baccarat, and many other card games right from the comfort of their own homes. 
Why Celebrate National Card Playing Day At An Online Casino?
Play card games just for fun or for real money
Choose regular online card games or play against a live dealer 
Claim lucrative no deposit and welcome bonuses.
Win some extra cash this holiday season!
Top 5 Card Games To Play For Real Money On National Card Day
When it comes to card games, everybody can find their cup of tea. Some online card games are based solely on luck while others require skill, such as blackjack. Some are extremely fast-paced, while in others you can take your time.
At online casinos, you're always playing against the house. Once you choose a specific card game to play, you will also have to decide whether to play a software version or a live dealer version.
Both of these have their advantages and it really comes down to which one you enjoy the most. Some people love to interact with live dealers in real-time while others prefer to simply focus on the gameplay itself.
Let's look at some of the most profitable card games you can play at online casinos:
1. Blackjack
Blackjack is also widely known as 21 since the objective is to get to or as close to 21 as possible (without going over) in order to beat the dealer.
Anyone who loves to play blackjack on a regular basis will be quick to point out that learning basic blackjack strategy will boost your chances of winning considerably.
This fact alone makes blackjack an ideal game to jump into on National Card Playing Day. Plus, there are various blackjack variations for you to try such as:
Single Deck Blackjack
American Blackjack
European Blackjack
Pirate21 Blackjack
2.    Baccarat
In Baccarat, the outcome depends on comparing two hands, one belonging to the player and the other to the banker. As the player, what you want to do is to bet on the winning hand which can be the Player, the Banker, or Tie space on the table.
If you want to play for real money, baccarat is a great game to play on National Card Playing Day!
This card game provides players with some of the best odds around (1.06% for the banker's hand and 1.24% for the Player's hand). Some baccarat versions worth considering include:
3.   Video Poker
Many players prefer online Video Poker to standard poker since it is more straightforward and gameplay is quick with the best five-card hand winning every round.
In Video Poker, you make just one quick decision and that is it. A lot of people appreciate this about video poker since it ensures more and faster action.
If you already love to play poker, playing one of the many popular video poker titles available at first-class online casinos is an excellent way to enjoy National Card Playing month this year. Some video poker options that truly stand out include:
Joker Poker
Double Bonus Poker
Jacks or Better
Deuces Wild
4.  Tri Card Poker  
When playing Tri Card Poker, you will have two betting options (Ante and Pair Plus) to try to get the best possible hand. With the Ante bet, you are betting against the dealer but not with the Pair Plus bet where your goal is to get a pair or better without taking the dealer's hand into account.
Some players find regular poker's complexity to be daunting and that makes Tri Card Poker a great alternative. In Tri Card Poker, gameplay is much quicker with just three cards.
This National Card Playing Day, you can get in on the action without even stepping out of your home with different versions of this game like:
Progressive Tri Card Poker
5.  Tonk  
Tonk is a card game that is somewhat similar to poker but more so to Rummy with the player who has the fewest points at the round's end winning. Gameplay involves matching cards by rank (8-8-8) or suits (7C-8C-9C) and playing strategically to be the first to use up every card you were dealt.
Although Tonk is not as easy to find at online casinos as the other card game options mentioned above, there are a few top-notch gambling sites that do offer it.
You better believe that you will have an amazing time if this is your card game of choice on National Card Playing Day. 
Legit Sites To Play At On National Card Day
| RANK | REAL MONEY CASINO | BONUS | GAMES | GET STARTED |
| --- | --- | --- | --- | --- |
| 1 | Bovada Casino | BONUS 100% up to $3000 | GAMES 308 | Play Now |
| 2 | Las Atlantis Casino | BONUS 280% up to $14,000 | GAMES 261 | Play Now |
| 3 | BetUS | BONUS 150% up to $3,500 | GAMES 96 | Play Now |
| 4 | Slots.lv | BONUS 200% up to $5,000 | GAMES 312 | Play Now |
| 5 | Red Dog Casino | BONUS 225% up to $12,250 | GAMES 261 | Play Now |
A Brief History Of The Card Games You Play Today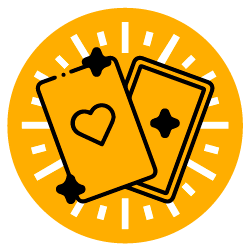 Just for fun or for real money, card games are fascinating and that is why people all over the world have been playing them for centuries.
No one is certain who invented the first card game of all but most experts agree that this probably happened in China between the 7th and 10th centuries A.D. 
The card games that the Chinese played back in those days differed considerably from the online casino card games that we know today.
The first card games that made it to Europe did so via the Egyptian Mamluk Empire in the mid-1300s. While the initial Mamluk playing cards had symbols such as goblets, gold coins, swords, and polo-sticks, Europeans experimented with these until the French introduced the symbols that we know and love today around 1480. 
These days, card games are enjoyed all over the world. On top of that, new card games are invented all the time and, given people's fascination with these games, it is sure to continue well into the future.
Honor National Card Playing Day This Year! 
National Card Playing Day is just around the corner! So pick what card games you want to celebrate it with and keep the holiday joy going.
Make sure not to miss this exciting opportunity on the 28th of December! Get your family and friends together or, If you want to play for real money, make sure to visit one of our trusted casinos.