When you visit an online casino, the first thing you'll see is an abundance of tempting bonuses. Promotions range from welcome offers good for multiple games to free spins on specific slots. So, how can gambling sites afford these constant perks, and are they too good to be true?
Online casinos operate with far fewer overhead costs than their land-based counterparts. Those savings, in part, allow them to give out bountiful promotions to entice players to sign up and make a deposit.
But do online casino bonuses always benefit you? The answer can be complicated, so before you go claiming an offer, there are a few things you should consider.
We will cover the ins and outs of online casino bonuses to help you better understand what you're signing up for.
How Do Online Casino Bonuses Work?
Many people think bonuses are free cash, but that is definitely not the case. A better way to look at them is a safety net. If you lose your initial deposit without a bonus, you will have no funds left in your account. If you claim a promo and lose your deposit amount, you still have the bonus money from the casino to utilize.
There are a lot of components that make up casino offers, so you should always read the terms and conditions carefully. The following factors can significantly affect how a promotion works.
Wagering requirements
Wagering requirements are perhaps what you should look at first and foremost. They represent the total amount of money you must bet in order to cash out your winnings.
For example, Wild Casino's welcome package has a rollover requirement of 35x your deposit and bonus amount. It's crucial to know these rules before claiming an offer, so you know if cashing out is even going to be feasible.
The amount varies from site to site, but anywhere between 30-40x on a welcome bonus is average. There are some reload or free spin offers in the 10-20x range, though it's a much less common occurrence.
So how do you calculate your end of the deal? Let's say you're claiming that welcome bonus from Wild Casino:
If you deposited the minimum $20 and got a 250% match, you'll have a total of $70 in your account; $20 deposit and $50 bonus..
With a 35 times wager amount, you would have to spend $2,625 before you could get paid out.
Time limit
Many bonuses have a time limit on top of the wagering requirements. So you need to make sure you're going to have time during that window to meet all the terms. They typically range from a few days to several weeks.
For example, BetUS's 200% crypto bonus gives you 14 days. However, you should always keep an eye on the clock because some offers or special events could be good for just a single weekend.
It's a good idea to consider this factor prior to entering the code since it's not always pleasurable to play in a crunch. If you prefer casually gaming here and there, the deal could become null and void before your next visit to the casino.
Games You Can Play
While there are a million and one bonuses in rotation, they don't usually work for all games. That is especially true of titles with low house edges or progressive jackpots. If those games do qualify, it might be at a lower "contribution rate" for the rollover requirements.
For example:
Games with a higher house edge such as slots, keno, and scratch cards might contribute 100% of what you wager toward the playthrough requirements.
Other games like blackjack and roulette only use 5-10% of your bet amount to cover the rollover. If you bet $10, only $1 would go towards the wagering requirement.
Wild Casino's crypto bonus behaves that way. Slots wagers count 100%, but blackjack only contributes 5%. That means you will meet the rollover requirements much quicker if you choose to play slots.
Maximum Bet Size
Some sites limit the amount you can bet at a time while you're working toward clearing your rollover requirements. This condition allows the casino to ensure that you don't hit your goal too fast. After all, they are matching your deposit and want to make sure they don't go broke.
It's essential to read the fine print to find out the max bet for an offer. If you bet over the permitted amount, the casino could confiscate the bonus funds and winnings you have left.
So, keep in mind if the max bet size is $10, you should try not to exceed that amount in a single round, even if a game will let you.
Online Casino Bonuses With Low Wagering Requirements
| Casino | Bonus Type | Bonus Code | Rollover | Claim Now |
| --- | --- | --- | --- | --- |
| MyBookie | 10% Cash Bonus | 200CASH | x1 | |
| BetUS | 20% Cash Bonus | RU20CASH | x6 | |
| MyBookie | 100% up to $1000 | MYB100 | x10 | |
| BetOnline | 100% 1st Time Crypto Bonus | CRYPTO100 | x14 | |
| Bovada | 100% up to $3000 | CAWELCOME100 | x25 | |
| Las Atlantis | 280% up to $14,000 | LASATLANTIS | x30 | |
| Wild Casino | 100% up to $5,000 | WILD250 | x35 | |
The Bright Side Of Casino Bonuses
All things considered, there are a lot of upsides to online casino bonuses. If you lose your deposit, the bonus funds act as a buffer.
Even if the offer is somewhat subpar, it still allows you to play for longer and extend your fun. When it comes to gambling, that's what matters most.
LegitimateCasino.com's Expert Advice

"Don't let the rollover requirements intimidate you. They apply to the money you wager per round, not the money you deposit.
The worst-case scenario is that you lose what you deposit and all the free promo cash. Your best-case scenario is that you reinvest your winnings until you meet the requirements and can cash everything out.
Either way, you should have a great time in the process."
So Should You Claim Online Casino Bonuses?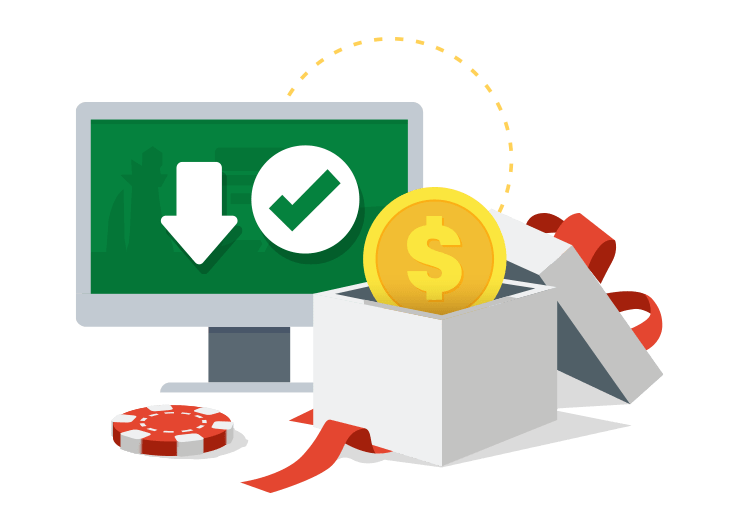 Casino bonuses catch your eye with promises of big rewards, but it's important to remember that they don't translate into free cash. The fine print shapes how beneficial an offer is and if it's the right one for you.
So, should you claim them? There really isn't a straightforward answer. It comes down to the requirements of each deal and what your goals are. However, one thing is for sure; you should always carefully read the terms and conditions before claiming a bonus.
Start with some personal limits and ask yourself if you find the rules to be reasonable. The big question is, will this offer add more entertainment value?